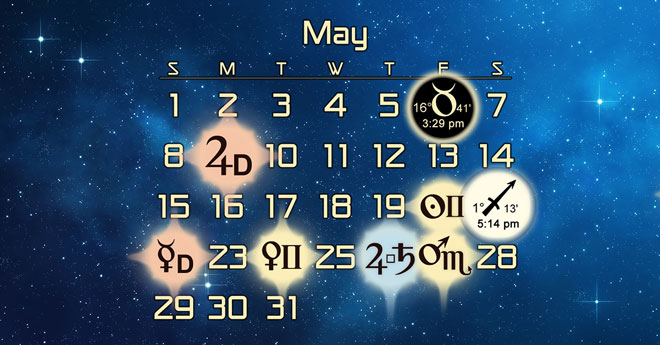 Episode 74 features a discussion with Kelly Surtees and Austin Coppock about the major astrological alignments and forecast for May of 2016, as well as coverage of some of the most auspicious dates over the next few weeks, based on the principles of electional astrology.
At the beginning of the episode we also had an extended digression about astrological education and certification, which I wanted to get Austin and Kelly's thoughts on, since this is a reoccurring topic on the show lately. This discussion acts as a sort of companion piece to episode 72 on Astrological Training, Certification, and Credentials.
For those that want to skip the certification discussion and jump straight to the astrological forecast, then just skip to 47:51 to go right to the forecast segment.
As always, the cover art for this episode is from the 2016 PlanetWatcher Astrology Calendar.
Below you will find the show notes, followed by links to download or stream the recording of our discussion.
Episode Outline
News and Upcoming Events
Upcoming events:

Kelly speaking at NORWAC in Seattle in late May. Travel to Sydney in June, San Francisco in July. Next online class on transits/progressions starts late June.
Austin teaching fundamentals course, covering houses this month. Planetary magic course May 12.
Question and answer episode tentatively scheduled for June 29. Send questions to Chris at astrologue@gmail.com.
Education and Certification

Discussion about pros and cons of certification as recent podcast topic.

Certification versus education.
Austin: dangers of homogenization, but importance of lineage.
Kelly: doesn't seem to really matter to clients at this point in time.
Astrological Aspects for May (starts at 47:51)

Mercury retrograde in Taurus most of the month.
New Moon in Taurus May 6, ruled by Venus in Taurus.
Jupiter direct in Virgo May 9.
Sun ingresses into Gemini May 20.
Full Moon in Sagittarius May 21, conjunct Mars Rx in Sag/ruled by Jupiter in Virgo.
Mercury stations direct in Taurus May 22.
Venus ingresses into Gemini May 24.
Jupiter square Saturn May 26****.
Mars makes a retrograde ingress into Scorpio May 27.
Venus in Taurus for most of May – dignity and not in aspect to Mars/Saturn. April 29 – May 24!!
Other than the Jupiter/Saturn square, which is huge, lots of other aspects for May include sextiles and trines:
Mercury trine Pluto – May 13 + 30
Venus sextile Neptune (May 9)/trine Jupiter (May 10)/trine Pluto (May 14)
Sun sextile Neptune (May 1)/trine Jupiter (May 3)/ trine Pluto (May 7)
Auspicious Dates / Electional Charts For May
Elections this month were picked out by Leisa Schaim, who is helping me while I'm focusing on working on my book.
(not a lot of great choices later in the month)
Listen to This Episode
You can either play this episode of the podcast directly from the website or download it as an MP3 to your computer by using the buttons below:
Podcast: Play in new window | Download (Duration: 2:03:35 — 56.9MB)
Subscribe: Google Podcasts | Stitcher | RSS | More