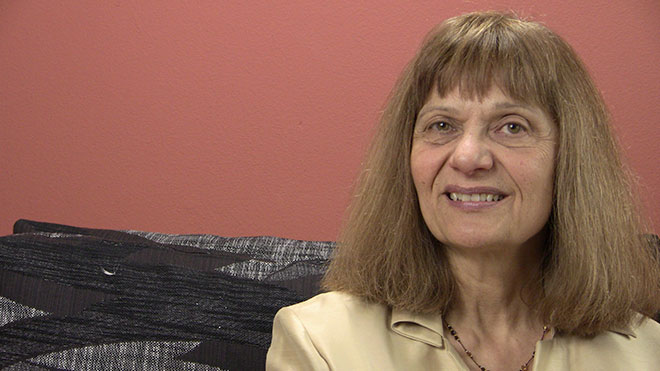 In episode 73 I talk with astrologer Demetra George about her life and career in the field of astrology, as part of a new series of biographical episodes.
Demetra has been active in the astrological community for over 40 years, and is perhaps most well-known for her work on the astrological meaning of the asteroids, and then more recently for some of her pioneering work on the study of ancient astrology.
Demetra is doing an intensive on Hellenistic astrology this summer from July 11–15, 2016. You can find out more information about her work on her website at Demetra-George.com.
Below you will find the show notes, followed by links to download or stream the recording of our discussion.
Episode Outline
Here are some of the topics we covered during the course of the episode:
Place of origin, family background, growing up.

Born July 25, 1946 at 06:22 a.m. in Chicago, IL. Natal chart.
Background in mythology.

College, career path as math major, switched to philosophy major.
Travels in Europe, Turkey, Iran, Afghanistan, Pakistan 1969.
Moves to live on Commune in Southern Oregon in 1970.
Starts to read astrology and metaphysical books brought to commune by others.
Early studies in astrology.

Self-taught chart calculations, Oceanside Rosicrucian correspondence course, reading charts for other people on the commune.

Goes to first astrological conference in San Francisco in April of 1973, meets Eleanor Bach, receives asteroid ephemeris.
Background on Eleanor Bach (1922

–

1995).

New York based astrologer.
Had just published first asteroid ephemeris three weeks earlier.

Research on the asteroids during the 1970s.
Begins writing book on asteroids in 1980/81.
Completes manuscript in 1984, then shops it around.
Published Asteroid Goddesses (ACS) in June 1986, one week before UAC.
Attends and speaks at the first UAC. June 1986. Last minute cancellations resulted in her getting a speaking position.

Had a trade table with Douglas where they gave asteroid readings.
Career as an astrologer takes off.

Almost goes down path of becoming computer programmer.
Publishes Astrology for Yourself in 1987, with writing partner.
Busy period in astrological practice, teaching, conferences, tours to Greece, etc.
Thinks about going to graduate school by the late 80s/early 90s.
Regression that foreshadowed Hellenistic astrology connection April 1993
Became the first Project Hindsight subscriber in April 1993

Hand and Schmidt formally announce Hindsight at NORWAC in May 1993
Meets Zoller at AFA conference in Chicago 1994.
Attends second and third PH conclave 1995, 1996.

Goes back to school in mid-90s. 1997

–

2000, University of Oregon.

Decides to study classics, to deepen mythological research.
Learns Greek and other languages (reading proficiency in French) while studying classics.
Approached by Kepler College to teach midway through graduate school
Develops a stronger foundation in the history and transmission of astrology while at university
Completes translation of Manuel I Komnenos as part of MA thesis; graduate with M.A. Classics June 2000.

Kepler College gets authorization, begins teaching July 2000
Becomes part of the faculty of Kepler in the first class of students.
Teaches history and other topics at Kepler.
Symposium at end of first year coincides with NORWAC. May 2001

Alan White gives impromptu lecture about Hellenistic astrology one night.

Goes to study Hellenistic astrology in Cumberland, MD following winter 2001–2002.

Studies with Robert Schmidt and Alan White to develop Hellenistic astrology course at Kepler.

Begins teaching Hellenistic astrology at Kepler spring 2002
2002 received Regulus Award in Theory and Understanding.
Teaching Greek at Kepler.
Leaving Kepler 2006.
Publishes Astrology and the Authentic Self in 2008.
Continued research in reconstructing Hellenistic astrology.

Translations of medical texts, work on Thrasyllus, Antiochus aspect doctrine.
Mentorship and direct teaching.

Bringing some of that to completion with the forthcoming Hellenistic book.
Intensive workshop this summer to present the summation of work on HA:

July 11-15, 2016 in Portland, Oregon.
Astrology teachers Demetra studied with (in person or by correspondence): Oceanside Rosicrucians, Virginia Dayan, Joanne Wickenburg, Zip Dobyns, Tony Joseph, Robert Zoller, Robert Schmidt, Alan White.
Transcript
A full transcript of this episode is available here: Episode 73 transcript
Listen to This Episode
You can either play this episode of the podcast directly from the website or download it as an MP3 to your computer by using the buttons below:
Podcast: Play in new window | Download (Duration: 1:53:23 — 52.3MB)
Subscribe: Google Podcasts | Stitcher | RSS | More