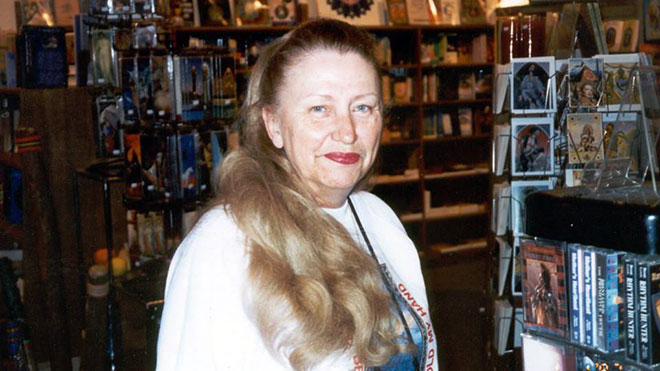 In episode 75 guests Laura Nalbandian and Gary Lorentzen join the show in order to talk about the late astrologer Maggie Nalbandian, and her contributions to the astrological community.
Maggie is primarily known for running a popular astrology bookstore in Seattle called Astrology et al, organizing the Northwest Astrological Conference starting in the 1980s, and founding Kepler College in the early 1990s.
Below you will find an outline of the episode, followed by links to download or stream the recording of our discussion.
Episode Outline
Here are some of the topics we covered during the course of the episode:
Place of origin, family background, growing up.
Born April 5, 1937 at 3:00 PM in Plainview, Texas – Hale County (she rectified to 3:12 PM). AstroDatabank entry.
Moved to Northwest in mid-1950s.
Married in 1956. Two children: daughter Laura born in 1959, and son Gregory in 1962.
Moved to Seattle in 1960.
How and when did she get into astrology?
Got into astrology as a skeptic, in order to disprove it to a friend around 1963/4.
Studied under Dorothy B. Hughes, who was the founder of the Seattle Astrological Association.

Hughes was the Grand Dame of astrology in Seattle in the 1960s and 70s.

Opening up the Astrology et al bookstore. First bookstore opened in April 1975.

Bookstore grew over the years, and moved to different locations around Seattle.
Different astrologers worked there, taught, or passed through over the years.

Jeffrey Wolf Green did readings there during his formative years.

Walked in for the first time the day of his Saturn return.

Maggie's general openness and inclusiveness towards other astrologers.
Involvement in local astrology groups.

Gary became President of the local astrology group in 1976, and they held a mini-conference in 1977.
Seattle Astrological Association (SAA) became Washington State Astrological Association (WSAA) in 1976.
Maggie organized a larger regional conference with WSAA in 1979 after Gary moved.

Starting to plan the annual Northwest Astrological Conference in early 1980s.

The first NORWAC took place in Seattle in 1984. March 23-25.

Anti-astrology legislation in the 1980s causing concern.

Legislation proposed in Washington saying that in order for a person to provide counseling services that you had to have a degree in psychology.
A lot of astrologers were calling themselves counselors in the 70s and 80s.
The astrologers were able to defeat the bill, but this acted as a precursor to Kepler College because it brought up the issues of credentials, regulation, and education.
One law that did make it on the books says that if an astrologer runs afoul of the law then they could be brought in front of a panel of their peers before or potentially instead being brought before the state.

This was part of the impetus to form Kepler, because you can't have a panel of peers unless you have an accrediting body and some sort of standardization.
The need to create the astrological equivalent of the American Medical Association, in order to set out criteria for what a professional astrologer is, and what qualifies a person.
Maggie's position on regulation was "If we don't do it, then the government will do it for us."
The Kepler graduates were always ideally going to be the people who would be on the accreditation or overseeing board, because they would be well-versed in all of the necessary areas and traditions of astrology.
Maggie: "It was an exciting time.  We just knew that it was going to work. We just knew."

The formation of Kepler College in the early 1990s.

Maggie had been talking about a college for astrology since the mid to late 1980s.
Most people believed that an astrological curriculum would have to be added to an existing school, but Maggie argued that we needed to have our own.
Met with a woman at an AFA conference in Chicago in 1991 and talked about her thesis on starting a college for astrology. The woman herself didn't want to be involved, but after this meeting Maggie was fired up about actually starting a college.

Motivations for starting Kepler.

Anti-astrology legislation, need for standards board within community.
Drive to pursue academic degrees and recognition from academia.

First Kepler meeting took place on September 3, 1991 in Seattle.

In attendance were Maggie Nalbandian, Laura Nalbandian, Michael Munkasey, Joanne Wickenburg, Roxana Muise, Rick Levine, Jeffrey Wolf Green, Martha Taub, Steven James, and David Pond.
Rick Levine proposed calling it Kepler College, after Johannes Kepler.

Gary Lorentzen developed the curriculum and instructional design, and negotiated with the State for approval to grant degrees.

Couldn't make first meeting but was at second in October.
Had studied curriculum and instructional design at University of Washington.
Many of the initial proponents of the school didn't have much experience with colleges, or setting up one.

There was a lot of enthusiasm, but also naïveté about what it would take, and what was possible.

Intention to create Kepler announced at NORWAC in May of 1992.

Kepler incorporated on November 27, 1992 at noon (?) in Olympia, WA. Kepler's chart.

Desire to create a curriculum that had just as much breadth as it had depth.

Wanted to present the history, philosophy, and techniques.
Desire to cover all of the different traditions from an early stage.
They didn't want it to just be a trade school, but a well-rounded liberal arts college.
Maggie wanted all forms of astrology to be studied so that the students could be given a choice.
They wanted it to have a breath that embraced all of the different schools, with specialists from each of the major fields.
The rallying call for Kepler was the talk about education, about raising standards within the field.

Kepler became a community effort, although there was also some pushback and skepticism from the astrological community.

Skepticism over the plausibility of creating an actual recognized college.
Resistance to the idea of community wide certification.
Many who were initially skeptical later came around to the idea.
Maggie: "No one person did it. As a group we did it. Every person gave it so much time."

One of the biggest challenges early on was money, due to the costs involved in getting it started.

A lot of the early expenses came out of Maggie's pocket, and she used her rather large mailing list to raise money through donations.
A lot of fundraising from the community, with sometimes very substantial donations.

Kepler opened and started its first class on July 20, 2000.

There was a lot of media coverage and outrage from various quarters when Kepler got authorized and opened.
Academics and skeptics were outraged, and criticized the state for allowing it.

Maggie stepped back from organizing once the school was off and running, as she had always said that it wasn't supposed to be "her school".

She said that she never wanted to do this as a career or to be a teacher, because she knew that she wasn't qualified, but she just wanted to get it going.

The first class of students graduated with BA degrees in 2004.
The difficulties of accreditation.

Official from the state authorizing board said that they couldn't teach people how to do astrology, they could only teach the theory.
In later years there were attempts to scale back the practical content in the curriculum to appease the accreditation board.
Ultimately regional accreditation was never achieved, and state accreditation was revoked around 2010, after 9 years.

Even as early as 1991 Maggie made the statement that Kepler would be the first college, but not the last. Any other school that started would be supported. Kepler was supposed to be the prototype – not the end.
The main point that Maggie wanted to get across when Chris interviewed her in 2005 was that there was no one person that made it happen. It was a group effort.
Maggie attended and was recognized at the final Kepler College graduation ceremony in May of 2012 for the last class of students from the degree program.
Maggie passed away on June 29, 2015.
Transcript
A full transcript of this episode is available: Episode 75 transcript
Listen to This Episode
You can either play this episode of the podcast directly from the website or download it as an MP3 to your computer by using the buttons below:
Podcast: Play in new window | Download (Duration: 1:43:00 — 47.5MB)
Subscribe: Google Podcasts | RSS | More