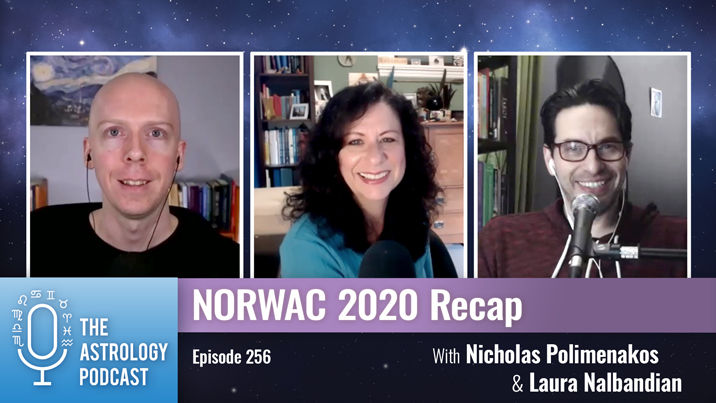 Episode 256 of the podcast features an interview with astrologers Laura Nalbanian and Nicholas Polimenakos about the recent Northwest Astrological Conference (NORWAC), which was moved online recently for the first time in its 36 year history due to the pandemic.
NORWAC is normally an in-person conference that takes place in Seattle on Labor Day weekend at the end of May each year.
It was originally founded in 1984 by Laura's mother, Maggie Nalbandian, who was profiled in episode 75 of The Astrology Podcast.
Due to the Covid-19 pandemic that broke out earlier this year, Laura was not able to hold the conference in-person, but instead made the decision to move it entirely online.
The conference ended up being a success, and the purpose of this interview was to talk about what happened, and what it was like moving an in-person conference to an entirely online one.
Lecture recordings from the conference are now available on the NORWAC website:
This episode is available in both audio and video versions below.
Watch the Video Version of This Episode
Here is the video version of this episode on NORWAC 2020:
–
Listen to the Audio Version of This Episode
You can either play the audio version of this episode of the podcast directly from the website or download it as an MP3 to your device by using the buttons below:
Podcast: Play in new window | Download (Duration: 1:51:10 — 76.4MB)
Subscribe: Google Podcasts | RSS | More