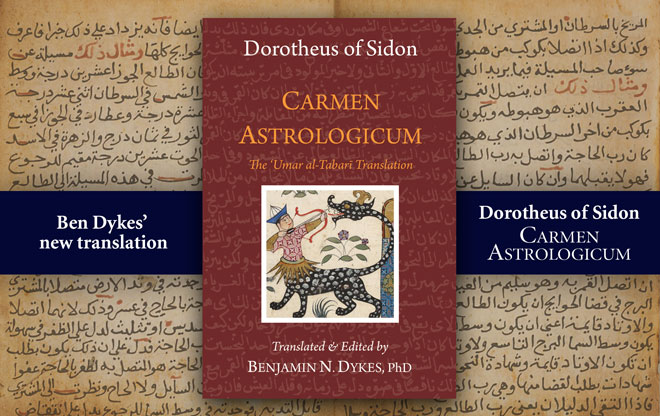 In episode 107 of the podcast astrologer Benjamin Dykes joins the show to talk about his new translation of the work of the 1st century astrologer Dorotheus of Sidon.
Dorotheus was a highly influential astrologer who lived in the Mediterranean region during the time of the Roman Empire, and he wrote one of the earliest surviving works on natal astrology and electional astrology.
Although Dorotheus' text was originally written in Greek, the majority of it only survives in an Arabic translation that was produced in the 8th century, of which only two manuscripts survive. Ben recently translated this text from the Arabic, and has published it along with some useful commentary and fragments of Dorotheus' work.
The book is now officially available for purchase from Ben's website:
Dorotheus of Sidon, Carmen Astrologicum
Below you will find the show notes, followed by links to download or stream the recording of this episode of the podcast.
Episode Outline
Here are some of the topics we touched on during the course of the episode:
Who was Dorotheus of Sidon?
Why is his work significant?
Why the need for a new translation?
English translation of an Arabic translation of a Persian translation of the original Greek.
This is the Umar al-Tabari translation, which is an Arabic version from the late 8th century.
The structure of the work: books 1-4 on natal astrology, book 5 on electional.
The dating of Dorotheus based on the charts.
The fifth book, and whether it deals with inceptions or questions.
Dorotheus' use of triplicity lords.
Dorotheus' use of Lots or Arabic Parts.
Different timing techniques used in Dorotheus.
Other projects and translations that Ben is working on, including Theophilus of Edessa.
Transcript
A full transcript of this episode is available: Episode 107 transcript
Listen to This Episode
You can either play this episode of the podcast directly from the website or download it as an MP3 to your computer by using the buttons below:
Podcast: Play in new window | Download (Duration: 1:28:56 — 41.1MB)
Subscribe: Google Podcasts | Stitcher | RSS | More