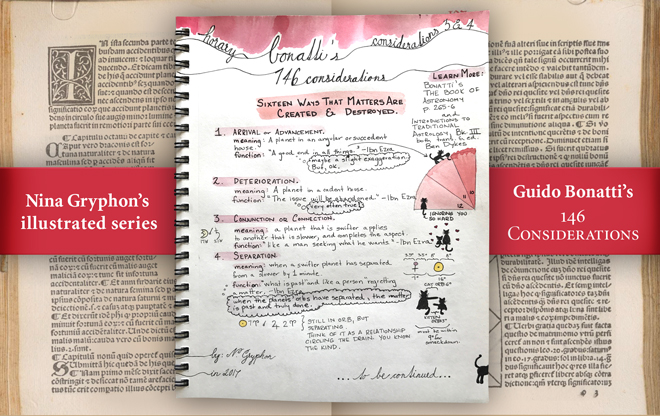 In episode 108 of the podcast astrologer Nina Gryphon joins the show to talk about her project to create an illustrated commentary on the 146 aphorisms of the 13th century astrologer Guido Bonatti.
Nina is an astrologer and corporate lawyer who practices traditional astrology, specializing in personal, financial, and political forecasting. She recently launched a project to produce an illustrated version of Bonatti's 146 considerations, which is partially being crowdfunded through her page on Patreon:
For more information about Nina's work visit her website at:
Below you will find the show notes, followed by links to download or stream the recording of this episode of the podcast.
Sponsors and Giveaways for May
At the top of this episode I briefly talk about our sponsors and giveaway prizes for May, which are:
A copy of the popular desktop astrology software program Solar Fire 9.
A copy of the mobile astrology app called Astro Gold, which is available for both iPhones and Android devices.
Listeners of the podcast can get a 15% discount on Solar Fire when they use the promo code AP15 when purchasing the program through the Astrolabe website.
For more information about the giveaway and how to enter see the May description page.
Episode Outline
Here are some of the points that we touched on during the course of the episode:
Who is Guido Bonatti?
When and where did he live?
What did he write?
Why is his work significant?
What are the 146 considerations?
Discussion about the genre of aphorisms
Translations of Bonatti's aphorisms.
William Lilly & Henry Coley translation of the aphorisms

Anima Astrologie, or A Guide for Astrologers, 1676
More of a paraphrase, which omits some passages.

Ben Dykes' newer translation of the aphorisms recommended.

Available originally as Treatise 5 in his 2007 publication.
Ben later published the 146 considerations on its own.

Preference for one translation or the other?
What makes the aphorisms useful or worthwhile?
Which ones are the most striking or compelling?
Are there any where you feel like he missed the mark, or his meaning was unclear?
Talking about Nina's project to illustrate and explicate the considerations.
Possible print book in the future?
Transcript
A full transcript of this episode is available: Episode 108 transcript
Listen to This Episode
You can either play this episode of the podcast directly from the website or download it as an MP3 to your computer by using the buttons below:
Podcast: Play in new window | Download (Duration: 1:42:39 — 47.4MB)
Subscribe: Google Podcasts | Stitcher | RSS | More