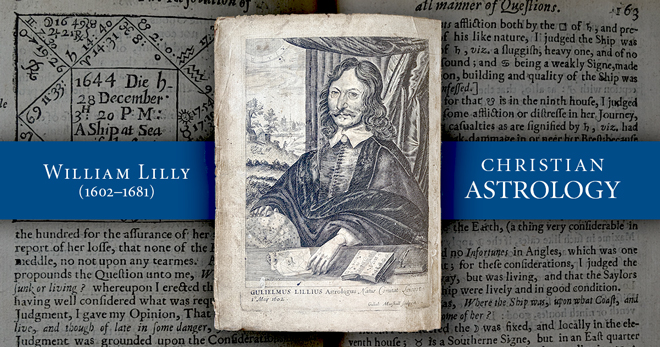 Episode 221 of the podcast features an interview with Nina Gryphon about the famous 17th century astrologer William Lilly and his book Christian Astrology.
Lilly published Christian Astrology in 1647, and it was the first major textbook on astrology that was written in English. Most western astrological texts were written in Latin up until that point in history.
The book has had a deep and enduring impact on astrology in the west over the past few centuries since it was published, and Lilly is usually regarded as one of the most influential figures in the western astrological tradition.
Nina has been studying Lilly's work for the past two decades, and in this episode we provide a detailed overview of his life and work.
For more information about Nina check out her website NinaGryphon.com
This episode is available in both audio and video versions. You will find links to each at the bottom of the page, just after the episode outline and gallery.
Episode Outline and Show Notes
Here is an outline of the main points we touched on in this episode. This is an edited version of our show notes, which Chris and Nina collaborated on before recording the episode.
William Lilly (1602-1681).
One of the most prominent and influential astrologers of the 17th century.
Worked as a practicing and consulting astrologer in London most of his adult life.

Doing many consultations per day, for rich and poor, as evidenced by casebooks.

Wrote the first major English language textbook on astrology.

Christian Astrology was first published in 1647.
Important because in England prior to this, astrological literature was in Latin.

Inaccessible to all but a small minority with a classical education.

Only prior English text was a short treatise on medical astrology.

Miscellaneous almanacs or predictive texts.

Inspired a number of key astrological writers to write in English:

Nicolas Culpeper, John Gadbury, William Ramesey, Joseph Blagrave, etc.

Also translated Anima Astrologiae: A Guide for Astrologers (1676).
Continued to be highly influential after his death, in various forms.

Was involved in publishing almanacs; publishing 36 (1647

–

1682).

He was easily the best-selling almanac writer of his time in England.
Selling more than 30,000 almanacs each year.
Almanacs contained weather predictions, political predictions for England and elsewhere, and some astrological text for instruction.
Perhaps his most famous prediction was that of the Great Fire of London of 1666.

Was involved in the politics of his day.

Strongly pro-parliament/anti-monarchist, though consulted with powerful people in both camps, going as far as advising Jane Whorwood, one of the King's confidants, in helping the King make his escape from the locations where held by Parliamentary forces (King did not listen).
Employed as propagandist via his almanacs, leaflets, and other publications, in an astrological context.

Always a question of how much he honestly saw astrologically, and how much was propaganda favoring the Parliament's cause.

Christian Astrology: scope and contents

Divided into three books.

Book 1: Basics of astrology
Book 2: Horary astrology questions
Book 3: Natal astrology

Teaches horary before natal.
Stronger for horary than natal?

Brings together a bunch of different sources that were available to him.

Extensive bibliography included in Christian Astrology, reflecting his own sizeable astrology library, as well as that of others.
Bibliography notable for including virtually all books printed in Europe before 1640.
After his death, library, casebooks, portrait were bought by Elias Ashmole for 50 pounds, and was incorporated into the Ashmolean Museum collection at Oxford.
Drew on Hellenistic, Medieval, and Renaissance sources.
Who were some of his primary sources?

Ptolemy, Naibod, Bonatti, Cardano.

He will sometimes state the tradition, but then give his own opinion.

He does this with his own unique take on the nodes, for example.

Had a tendency to side with Ptolemy when there were conflicts in tradition.

Uses Ptolemy's terms, triplicity rulers, Lot of Fortune calculation, etc.
Part of a "back to Ptolemy movement" of sorts, which was a broader theme in Renaissance astrology.
Tensions between recovering the supposed classical tradition represented by Ptolemy, versus the system that had been inherited from the Arabic astrologers, which included horary and magic, both of which are absent in Ptolemy. The Arabic astrologers also had more advanced mundane techniques like the Jupiter-Saturn conjunctions.

Life story, largely derived from his autobiography William Lilly's History of His Life and Times (1681).

He was born May 11, 1602, 2:07 AM.

3 Pisces rising, according to his own rectification, and publication by Gadbury.
William Lilly's birth chart, using Regiomontanus houses (note that we mistakenly used Alcabitius houses in the recording).

Grew up son of a relatively prosperous peasant in Lincolnshire.
Received very strong classical education, with a particular focus on (reflecting his native talent in) Latin, which later would serve him well in his astrological studies.
Could not attend university, so at age 18, went to serve as a secretary and assistant to an illiterate but wealthy household manager for the nobility in London.
The master's wife died, he remarried, then the master himself died, and Lilly married his employer's second wife.
His first marriage and his wife's eventual death allowed him the means to study astrology, which he said he studied day and night for two years, so engrossed was he in the topic.
He was always deeply interested in astrology and magic, and his autobiography gives many personality sketches of the London occultists with whom he came into contact, some of the astrological and magical feats they performed.
The English Civil War occurred and William Lilly was very involved in the Parliamentary side as a propagandist.
Many of the example horaries in Christian Astrology and other works are political in nature from the war era, with querents on both sides of the conflict asking about current events and possible future developments.
Remarried twice more, and the third time it was not a rich widow, but someone he was much happier with. He had no children. Mars in Virgo in the 7th house.
Eventually, as monarchy was restored, Lilly found it best to keep a low profile. There were too many published writings and charts where his anti-monarchist leanings were all too clear, including a published horary on whether Charles I would be executed. He was arrested but was helped by influential friends both times.
He retired to the country, where he practiced astrology and medicine until his death.

The later transmission of Lilly.

Zadkiel edition transmitted, but it was altered and abridged. Published in 1835, then 1852, when it was combined with other works in a so-called Bonn edition, and this later edition continued to be republished into the 1980s.
In addition to Zadkiel, a number of other authors borrowed uncredited from Lilly. Many 19th century astrology manuals will cite him word for word.

Original edition of Christian Astrology (not Zadkiel's version) was not widely available until Regulus edition in 1985; first true and complete edition since 1659.
First edition of Christian Astrology versus second edition.

Lilly published a revised second edition 12 years after the first.
First edition: 1647; second edition: 1659.
Some minor corrections between 1st and 2nd eds.
The publishers are different, but no major material changes.

Resources for further research on William Lilly:
Gallery of Images
Some pictures of Chris' copy of the first edition of Christian Astrology:
This slideshow requires JavaScript.
–
Transcript
A full transcript of this episode is available: Episode 221 transcript
Watch the Video Version of This Episode
Here is the video version of this episode on William Lilly's Christian Astrology:
–
Listen to the Audio Version of This Episode
You can either play this episode of the podcast directly from the website or download it as an MP3 to your computer by using the buttons below:
Podcast: Play in new window | Download (Duration: 1:53:22 — 52.3MB)
Subscribe: Google Podcasts | RSS | More