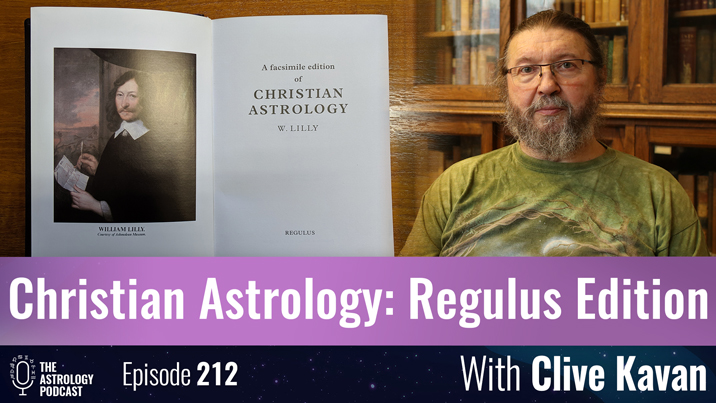 Episode 212 features an interview with Clive Kavan about how he published the 1985 Regulus edition of William Lilly's book Christian Astrology, which helped to spur the revival of traditional astrology in modern times.
Lilly's book Christian Astrology was originally published in 1647, and it was the first major textbook astrology written in English, because prior to that time most astrological texts were written in Latin.
Lilly himself drew on a wide variety of different Hellenistic, Medieval, and Renaissance sources, and his book became very influential to subsequent generations of astrologers in the English-speaking world.
The book was not widely available in its original form for most of the 20th century though, and that is why the publication of the Regulus edition of Lilly in 1985 was important.
The Regulus edition made the earliest English-language textbook on astrology widely available again, helped re-popularize the practice of horary astrology, and also eventually helped contribute to a wider revival of interest in older or more traditional forms of astrology that has expanded even more in recent years.
For more background information on the impact of the Regulus edition of Lilly, see my previous episode with Lee Lehman on horary astrology, as well as my later episode on the astrologer William Lilly and his book Christian Astrology .
I met Clive by chance at a pub the first night I flew into London, where a group of astrologers were hanging out after the Monday night meeting of the Astrological Lodge. Someone told me that he had published the Regulus edition of Lilly, and after asking him some questions about how that came about, I knew I had to get this interview with him to capture some of this important history.
The interview was conducted on June 18, 2019 in the research library at the Theosophical Lodge of London, where the Astrological Lodge of London meets each week since 1915.
Clive brought some original documents to the meeting that day, including a first edition of Lilly, which I will post some pictures of in a gallery below.
For more info on Clive visit CliveKavan.com.
This episode is available in both audio and video versions below.
Gallery of Images
Some pictures of books Clive brought to the interview:
–
Watch the Video Version of This Episode
Here is the video version of my interview with Clive Kavan:
–
Transcript
A full transcript of this episode is available: Episode 212 transcript
Listen to the Audio Version of This Episode
You can either play this episode of the podcast directly from the website or download it as an MP3 to your computer by using the buttons below:
Podcast: Play in new window | Download (Duration: 1:05:35 — 45.4MB)
Subscribe: Google Podcasts | RSS | More