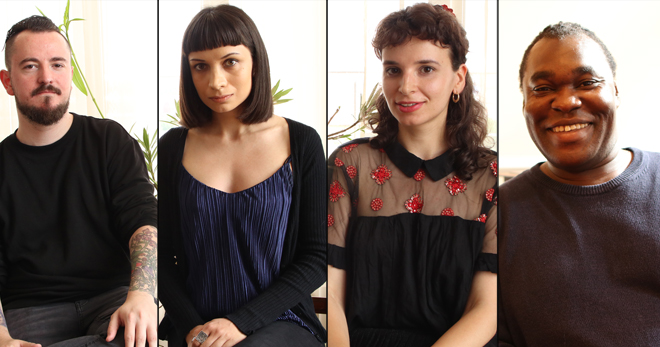 Episode 213 features a few short interviews that I did with different astrologers that I met in Romania and the England while I was traveling through Europe last month to attend two astrology conferences.
The first interview is with astrologers Oli Andrei Olar and Lelia V from Romania, the second interview is with Carmina Amza from Romania, and the third interview is with Israel Ajose from London.
I also recorded some longer interviews with other astrologers that were directed towards specific topics, which I've been releasing slowly in other episodes since I got back home, but these shorter interviews were meant to be briefer discussions just to showcase some of the cool people I met during my travels.
The interviews range from 14 to 24 minutes in length, and are available in both audio and video versions below.
Since I originally only intended to release them as video interviews, I'm going to post each video as a separate link below, but then in the audio version I will string all three of them together to form a single episode.
Oli Andrei Olar and Lelia V from Romania
Oli and Lelia were two cool younger astrologers I met in Romania who were listeners of the podcast. We had some drinks together one night early on, and I had a really good time hanging out with them. Oli is into Evolutionary Astrology, and Lelia talks a bit about the status of astrology among the younger generations in Romania.
This interview was conducted on Sunday, June 9, 2019, in Craiova, Romania, on the last day of the astrology conference that was hosted by the Romanian Astrologers Association.
Oli's Instagram: https://www.instagram.com/ov_venus/
Lelia's Instagram: https://www.instagram.com/laeliav/
–
Carmina Amza from Romania
Carmina is someone I was already familiar with before I went to Romania because I subscribe to her YouTube channel. She practices tropical Vedic astrology, as well as card reading and Human Design. She helped me translate two longer interviews I did with the founders of the Romanian Astrologers Association that day, which I will release separately as a full episode later this month. We traded interviews that day, and she also recorded an interview with me that was released on her channel recently.
Carmina's website: Carmina-Amza.com
–
Israel Ajose from London
Israel Ajose was one of my favorite people I got to hang out with on my trip to the UK. He is the Vice President of the Astrological Lodge of London, which holds meetings with lectures and classes there every Monday. We sat down on a Monday shortly before one of the Lodge meetings where I gave a talk, and we had a little discussion about the Lodge and what it is like organizing a local astrology group in London.
Israel teaches private classes and offers consultations in London, and you can follow him on Twitter or subscribe to his YouTube channel.
–
Listen to the Audio Version of This Episode
You can either play this episode of the podcast directly from the website or download it as an MP3 to your computer by using the buttons below:
Podcast: Play in new window | Download (Duration: 1:00:04 — 41.6MB)
Subscribe: Google Podcasts | RSS | More