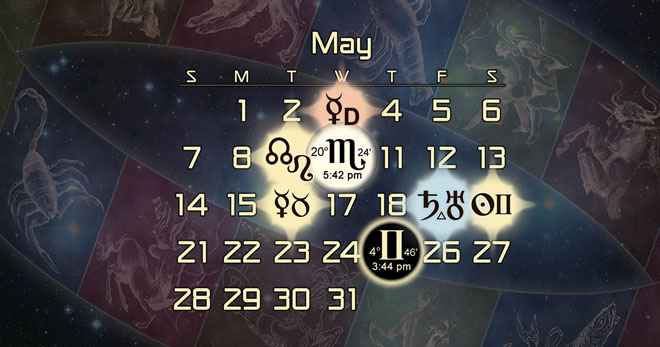 In episode 106 astrologers Kelly Surtees and Austin Coppock join the show to talk about the astrological forecast for May of 2017.
We open the show by talking about some recent news in the community, including a discussion about the episode of Bill Nye's new show that covered astrology, and some related issues surrounding the relationship between astrology and science.
Later in the episode I also highlight one auspicious electional chart for the month of May, using the principles of electional astrology.
The artwork for this episode comes from the 2017 Planet Watcher astrology calendar.
Below you will find the show notes, followed by links to download or stream the recording of this episode of the podcast.
Sponsors and Giveaway for This Month
At the top of this episode I briefly talk about our sponsors and the prizes that we are giving away for patrons of the show this month:
A pass to the upcoming Northwest Astrological Conference, which is taking place May 25

–

29, 2017 in Seattle, Washington.
A copy of Ben Dykes' new translation of Dorotheus, which will be released in early May.
For more information about the giveaway and the prizes see the April description page.
Major Astrological Alignments for May
Here are some of the major highlights that we talk about for the month of May:
Mercury stations direct May 3
North Node into Leo May 9?
Full Moon in Scorpio May 10
Mercury ingresses into Taurus May 16
Saturn trine Uranus May 19
Sun into Gemini May 20
New Moon in Gemini May 25
Auspicious Election for May
Here is the most auspicious electional chart that we could find for the month of May:
To hear about other auspicious electional charts that we found for May you can sign up to become a patron of the show on the $5 tier, and then you will have access to a 45-minute discussion where we talk about the pros and cons of this chart, as well as three other charts. This month we are recording both an audio and a video version of the electional episode for patrons.
Timestamps
00:00 – 6:30: news and announcements
11:25 – 32:52: discussion about Bill Nye episode and related issues of astrology and science.

32:52 – 1:41:23: forecast discussion for the astrology of May.

Listen to This Episode
You can either play this episode of the podcast directly from the website or download it as an MP3 to your computer by using the buttons below:
Podcast: Play in new window | Download (Duration: 1:41:23 — 46.8MB)
Subscribe: Google Podcasts | Stitcher | RSS | More