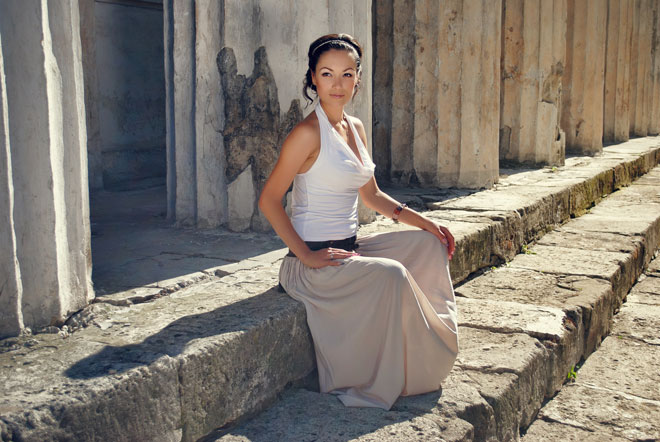 Episode 86 is a solo show where I talk about a couple of research projects I've been working on recently in connection with the book I'm writing on Hellenistic astrology.
The first topic is the question of whether Saturn was conceptualized as feminine by some astrologers in the early Hellenistic tradition, while the second is the question of who is the earliest female astrologer that can be identified by name.
Below you will find an extensive set of show notes, followed by links to download or stream the recording of this episode of the podcast.
Announcing the Winners of the July Giveaway
The podcast was sponsored this month by the makers of the astrology software programs called Solar Fire and Archetypal Explorer, and at the top of the show I announce the two winners of this month's software giveaway.
The winner of the free one year subscription to Archetypal Explorer was Jo Gleason!
The winner of the free copy of the astrology software program Solar Fire was Jamie Delp!
Big thanks to our sponsors and patrons for supporting the podcast this month! For more details about these programs or information about how to enter the drawing for next month see the giveaway description page for July.
Next month I'm going to be giving away access to my online courses on Hellenistic astrology and electional astrology as part of the giveaway.
Episode Notes / Outline
Start off by announcing the winners of this month's giveaway in the first 10 minutes.
Gender of Saturn
Astrologer Charlie Obert pointed out earlier this year that Dorotheus of Sidon says that Saturn is feminine.

Wrote a few articles about it on his website studentofastrology.com.
Reference occurs in Dorotheus, Carmen Astrologicum, 1, 10: 18.
It is a little parenthetical remark that says "(and the female planets are Saturn, Venus, and the Moon, and the male ones the Sun, Jupiter, and Mars)."

This is really interesting because then it creates a symmetrical set of assignments, and the Hellenistic astrologers were often really focused on symmetry.
Its problematic though because most of the rest of the tradition seems to have seen Saturn as masculine.

Sun, Jupiter, Saturn and Mars masculine, Moon and Venus feminine, Mercury usually neutral.

Many of the later astrologers may have just been following Ptolemy though, due to his stature as a scientist.
They may have also been following the associations with the gods, where the Sun, Jupiter, Saturn, Mars, and Mercury were all male gods, while Venus and the Moon were female gods.
The question is whether this parenthetical remark was in the original text, or if it was added later, or whether it is some sort of translation error.

Was there some genuine variant tradition prior to Ptolemy?

You have to understand the situation with the translation of Dorotheus to get the issue.

What we have is an English translation of an Arabic translation of a Persian translation of the Greek text, which was itself originally written in the form of an instructional poem.
There are a number of errors and interpolations in the text from later authors.

An obvious one occurs early in 1, 6, 4  when it says "Saturn harms one who is born by day and Mars one who is born at night"

This is the reverse of the usual Hellenistic rule based on sect, and in the rest of the text it clearly treats Saturn as more harmful at night and Mars by day.
Thus it was just an error in the text.

The question is whether the reference to Saturn's gender represents a similar error.
Unfortunately there are not a lot of references to planetary gender in the rest of the text.

The Hellenistic astrologers almost seem to focus on the gender of the signs and phase relationship to the Sun more than the inherent gender of the planets sometimes.
There is a reference at Dorotheus 1, 21: 10 that says that Saturn and the Sun signify older brothers, Moon older sisters, Venus younger sisters.

This argues in favor of Dorotheus viewing Saturn as masculine.
But then we don't know for sure if this is the interpolation or if the first one was.

Also uses Saturn and the Sun in the calculation of the lot of father.
At 1, 21: 20 he says that Saturn in a feminine sign with the lot of brothers indicates the death of a sister.
This is complicated because Ben Dykes tells me that there seem to be some references to Saturn as feminine in Theophilus and Sahl in the 8th century.

But then Theophilus and Sahl both drew on the Arabic/Persian translation of Dorotheus, so they could just be following that, which bypassed the Ptolemaic tradition.
In the Yavanajataka Saturn is gender neutral, which could perhaps support the idea that it could have been feminine in the Hellenistic tradition.
Ben also points out that the Jewish Qabalists also associated the sphere of Binah on the Tree of life with Saturn, and viewed it as feminine.

The general point here is that I don't know the answer to this question, but its suggestive enough that it is worth researching further.
I caution people that it could still be a translation error, and we shouldn't jump to conclusions too fast.
Other translation errors like the triplicity thing led to major changes in the tradition, and we should be careful that we don't make the same mistakes now.
But it is worth looking into.
Early Female Practitioners of Astrology
Over the past month I've been putting together this chapter on all of the Hellenistic astrologers, similar to episode 62 on the Lives and Works of the Hellenistic Astrologers
One of the points that you notice is that they were all men.
Women didn't typically receive the same education as men in the ancient world.
This raises the question of who was the first female astrologer, or who was the first female astrologer that we can name?
Kenneth Johnson wrote a great article for the NCGR journal years ago where he identified Buran of Baghdad who lived in the 9th century in Baghdad as the earliest woman that we know of who what he calls an "astrological woman."

Someone who had training in astrology and was said to have used it in her personal life, and in one famous instance to make a prediction.

This got me thinking about the Hellenistic tradition and if there was anyone else that we could identify earlier in the Greco-Roman tradition.
We know that women commonly consulted with astrologers.
There are some surviving court cases where women were accused of consulting with astrologers illegally.
The handbooks of guys like Valens and Firmicus are littered with references about how to interpret the charts of women.

Usually the default is a male perspective, but then every once in a while they will have a digression and either say that the same is true in the charts of women, or they will give an alternative rule for what to do for women.

Earlier this year when I was working on a bio for the 1st century astrologer Thrasyllus I found this passage in the Roman poet Juvenal, who wrote some pretty harsh satire pieces critiquing contemporary society.
There he mocks female clients of astrologers who eventually begin practicing the subject on their own.
While the point of this line is satire and mocking, it probably still reflects some general point that is true, which is that some female clients of astrologers probably would have started to practice the subject on some level on their own.
To me I define astrologer as someone who believes that astrology is a legitimate phenomenon and uses it in their daily life in some way.
By this standard then what we have is a reference to women practicing astrology in the Roman Empire circa 100 CE.
Hypatia
The next question is who is the first woman that we can actually name who would have had some training in astrology.
At this point I think I can argue that this would have been the famous philosopher Hypatia, who lived in Alexandria Egypt around the late fourth or early fifth century (c. 400 CE).
Hypatia was the daughter of the mathematician and astronomer Theon of Alexandria.
Theon wrote commentaries on Ptolemy's astronomical works known as the Almagest and Handy Tables.

Possibly an early work on the use and construction of an astrolabe.

Some of Theon's students included astrologers, and that's who he wrote the commentaries for, so they would know how to use them to cast charts.
By this time the empire had changed and Christianity had become the dominant religion.

Laws against astrology started to be issued around this time.
Astrologers were told to burn their books or face exile.

Theon's didn't really talk about astrology in his surviving works, although this may have been because it could get him in trouble.
Hypatia evidently had an interest in astronomy, and she is said to have helped her father write his commentary on the Almagest.
As an adult, Hypatia gained a reputation as a teacher of philosophy and mathematics, and she had a number of students who held her in high regard.
Given her background in astronomy and Ptolemy, should would have at least had some training or familiarity with astrology as well.
She was killed by a Christian mob in the year 415 CE.
The motivations are a bit unclear, and it seems that it may have been primarily for political reasons, although one later hostile Christian source says that she was involved in evil practices involving "magic" and "astrolabes."
An article I was reading recently on Hypatia and Theon by Alain Bernard suggests that the mob may have believed or been led to believe that she was practicing astrology, and using this to draw others away from their faith.

The suggestion then is that Hypatia's background in astronomy and potentially astrology could have been an excuse used to rally up the mob against her.

We cannot say for sure whether Hypatia was a practicing astrologer, or even what her views were on astrology were, since almost nothing of her work survives.
However, we can say that since she was someone who was interested in and had some training in astronomy, that she also likely would have at least had some training in astrology as well.
This would make her the first female figure that we know of by name to have had that sort of training, although undoubtedly there would have been other female astrologers before her whose names have been lost.
Transcript
A full transcript of this episode is available: Episode 86 transcript
Listen to This Episode
You can either play this episode of the podcast directly from the website or download it as an MP3 to your computer by using the buttons below:
Podcast: Play in new window | Download (Duration: 1:33:10 — 43.0MB)
Subscribe: Google Podcasts | RSS | More