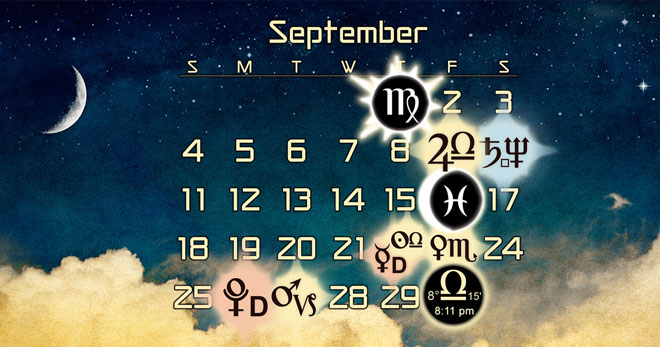 In episode 87 Austin Coppock and Kelly Surtees join the show to talk about the astrological forecast for September of 2016, which includes eclipses in Virgo and Pisces, Jupiter ingressing into Libra, the final Saturn-Neptune square, and a Mercury retrograde period in Virgo to top it off.
I also highlighted some auspicious dates for beginning different types of ventures and undertakings, using the principles of electional astrology.
As always, the cover art for this episode is from the 2016 PlanetWatcher Astrology Calendar.
Below you will find the show notes, followed by links to download or stream the recording of our discussion.
New Donation Page
I just set up a new page for donations on the podcast website. For those who appreciate the podcast and want to show their support, you can buy me a book through my Amazon wishlist, or you can send me a one-off donation through PayPal.
Current Giveaway Prizes
For the next giveaway I will be giving out a free pass to my online course on Hellenistic astrology for one lucky person on the $10 Patreon tier, and then one pass to my online course on electional astrology for one person on the $5 Patreon tier.
The Hellenistic astrology course contains over 90 hours of lecture material on different facets of ancient astrology, including hundreds of diagrams and chart examples in order to illustrate the application of specific techniques and concepts.
All you have to do to enter the drawing is become a supporter of the podcast through our page on Patreon on the $5 or $10 tier, and then you will automatically be entered in to the drawing. See the previous giveaway page for July to see how it works. The winner of the drawing will be announced in episode 90.
Astrological Alignments for September
New Moon/eclipse on September 1 in Virgo.
Jupiter ingresses into Libra September 9.
Saturn square Neptune September 10.
Full Moon eclipse in Pisces September 16.
Mercury stations direct in Virgo September 22.
Sun ingresses into Libra September 22.
Venus ingresses into Scorpio September 23.
Pluto stations direct September 26.
Mars ingresses into Capricorn September 27.
New Moon in Libra September 30.
Auspicious Electional Charts for September
Listen to This Episode
You can either play this episode of the podcast directly from the website or download it as an MP3 to your computer by using the buttons below:
Podcast: Play in new window | Download (Duration: 1:46:32 — 49.1MB)
Subscribe: Google Podcasts | Stitcher | RSS | More