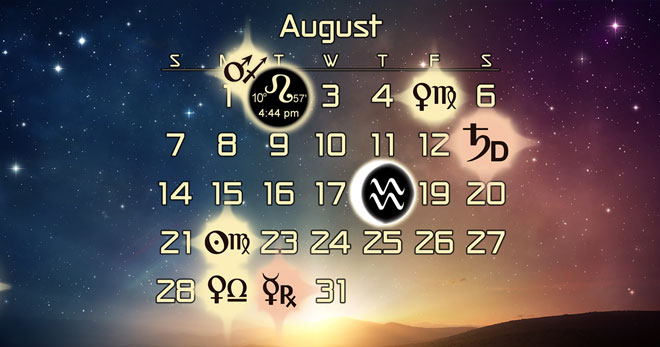 Episode 85 of the podcast features a discussion about the astrological outlook for August of 2016, with astrologers Kelly Surtees and Austin Coppock.
During the course of the discussion we talk about Mars finishing up its post-retrograde shadow period, whether or not the Full Moon on August 18th really counts as a lunar eclipse, and the relationship between the current Saturn-Neptune square and the craze surrounding the augmented reality game called Pokémon Go.
I also highlighted some auspicious dates for beginning different types of ventures and undertakings, using the principles of electional astrology.
As always, the cover art for this episode is from the 2016 PlanetWatcher Astrology Calendar.
Below you will find the show notes, followed by links to download or stream the recording of our discussion.
Giveaway Prizes for August
The podcast is sponsored this month by two astrology software companies, and we will be giving away free copies of their programs to two lucky patrons of the show on the next episode.
The giveaway prizes include a free one year subscription to the new online astrology program for archetypal astrology called Archetypal Explorer, as well as a copy of another popular astrology software program called Solar Fire.
For more details about these programs or information about how to enter the drawing please see the giveaway description page for July.
Astrological Signatures for August
Mars ingresses into Sagittarius August 2nd.
New Moon in Leo on the 2nd.
Venus ingresses into Virgo on the 5th
Saturn stations direct on the 13th
Full Moon (eclipse?) on the 18th.
Sun ingresses into Virgo August 22.
Venus into Libra on the 29th.
Mercury stations retrograde on the 30th.
Auspicious Dates for August
This month's dates were selected by Leisa Schaim, who offers electional astrology consultations through her website at LeisaSchaim.com.
Listen to This Episode
You can either play this episode of the podcast directly from the website or download it as an MP3 to your computer by using the buttons below:
Podcast: Play in new window | Download (Duration: 1:45:45 — 48.8MB)
Subscribe: Google Podcasts | Stitcher | RSS | More