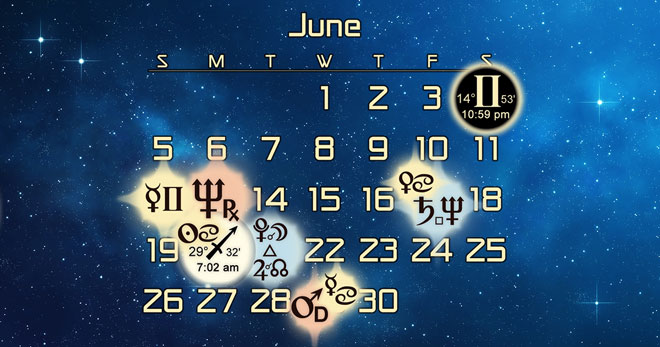 Episode 78 of the podcast features a discussion about the astrological outlook for June of 2016, with astrologers Kelley Surtees and Austin Coppock.
This month features the second of two exact Saturn-Neptune squares, transiting Mars stationing direct at 23 Scorpio, a mutable grand cross, and more.
I also highlighted some auspicious dates for beginning different types of ventures and undertakings, using the principles of electional astrology.
We begin the show with some remarks about the recent Mercury retrograde period that just ended, then we did the drawing for this month's prize giveaway for patrons of the show, and after that we jumped into talking about the major planetary alignments for next month.
Next month we are doing our first question and answer show, so if you have any questions please email them to Chris at astrologue@gmail.com.
As always, the cover art for this episode is from the 2016 PlanetWatcher Astrology Calendar.
Below you will find the show notes, followed by links to download or stream the recording of our discussion.
Giveaway Drawing for May
At the beginning of this episode we did the drawing and announced the winners of our first monthly giveaway for patrons of the podcast. This is part of a new plan to reach our next funding goal on Patreon, in order to improve the audio of interviews on the show by sending guests high quality microphones and headphones.
This is one of the new benefits for patrons on the $5 and $10 tiers, as explained in this post about the first giveaway on the podcast blog.
$5 Tier Drawings
The first prize for the $5 tier was a copy of Kelly Surtees e-book Saturn in Sagittarius: Focus Your Fire. The winner was listener Kerian Nox.
The second prize was a copy of Ben Dykes' new lecture titled Two Special Configurations: Aversion and Decimation. The winner was listener Amanda Wiant.
The third prize was a copy of Demetra George's lecture titled Integrating Traditional and Modern Methods. The winner was listener Kay Alexander.
$10 Tier Drawing
The grand prize this month for patrons on the $10 tier is a full 12 lecture conference pass to Breaking Down the Borders 4, hosted by the International Academy of Astrology. This is an online conference that will take place November 18–20, 2016, with over 48 speakers from around the world presenting lectures through an innovative live webinar format.

The winner of the drawing was listener Christine Stone!
—
Thanks to all of our sponsors that donated prizes for this month's drawing! Be sure to check out their websites for more info about some of the prizes offered this month.
I'm in the process of getting together the prizes for next month right now, but the grand prize for the $10 tier next month has already been established, and it is going to be a full pass to the ISAR conference in October. I'll have more details on that soon. If you would like to be eligible to win a prize in next month's drawing then all you have to do is sign up to become a patron of The Astrology Podcast on the $5 or $10 tier.
Astrological Aspects for June (starts at 28:55)
New Moon in Gemini June 4
Mercury-Mars opposition June 9
Mercury ingresses into Gemini June 12
Neptune stations retrograde June 13
Saturn squares Neptune June 17

Venus ingresses into Cancer June 17

Full Moon in Sagittarius June 20
Sun ingresses into Cancer June 20
Jupiter conjunct North Node June 21
Jupiter trine Pluto, June 26
Mars stations direct June 29

Mercury ingresses into Cancer June 29
Auspicious Dates for June
Elections this month were picked out by Leisa Schaim, who offers electional astrology consultations through her website at LeisaSchaim.com.
—
Listen to This Episode
You can either play this episode of the podcast directly from the website or download it as an MP3 to your computer by using the buttons below:
Podcast: Play in new window | Download (Duration: 1:38:08 — 45.3MB)
Subscribe: Google Podcasts | Stitcher | RSS | More