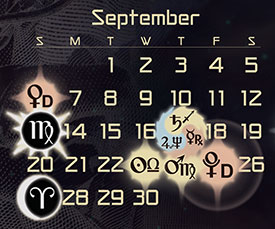 Kelly Surtees and Austin Coppock join the show to talk about the major astrological alignments for the month of September, as well as some of the most auspicious electional dates for the month.
During the course of the show we cover Saturn's ingress into Sagittarius and departure from Scorpio, Venus stationing direct in Leo and ending her retrograde phase, Jupiter's opposition with Neptune, eclipses in Virgo and Aries, and more.
The cover art for this episode is taken from the PlanetWatcher 2015 Astrological Calendar, which produced by astrologer Kirk Kahn.
Below you will find an outline of some of the different topics that we touched on during the course of the show, followed by links to download or stream the recording.
News and Announcements
Forecast for September
Venus direct on the 5th, but still in its shadow the rest of the month.
Saturn ingresses into Sagittarius and leaves Scorpio finally September 18.

Previous Saturn in Sagittarius preview was December 23 – June 15.
End Saturn of in Scorpio transit that started October 5, 2012.

Mercury retrograde in Libra. / Mercury spending 2 months in Libra, mostly the first half of Libra
Jupiter in Virgo opposite Neptune in Pisces, 1 deg orb Sept 13 – 22, 7 – 8 Virgo/Pisces.
Jupiter invisible/ dimmest in Virgo (interesting link to detriment here)/ moving from evening star to morning star (September 15, Jupiter now 15 degrees from the Sun).
Mars square Saturn, Sept 26, 0 Virgo/Sag.
Eclipses:

Solar eclipse September 13 at 20 Virgo
Lunar eclipse September 28 at 4 Aries

Solar eclipse March 20, 2015 at 29 Pisces
Lunar eclipse April 4, 2015 at 14 Libra

Solar eclipse March 8 at 18 Pisces
Lunar eclipse March 23 at 3 Libra

First Impressions of Jupiter into Virgo
How it turned out / we called it segment.

Reversal of some of the happy significations of Venus with it going retrograde, initially with Jupiter, but then just with Mars.
Local magistrates refusing to give out marriage licenses.
Electional Charts for September
Listen to This Episode
You can either play this episode of the podcast directly from the website or download it as an MP3 to your computer by using the buttons below:
Podcast: Play in new window | Download (Duration: 1:32:38 — 42.6MB)
Subscribe: Google Podcasts | Stitcher | RSS | More