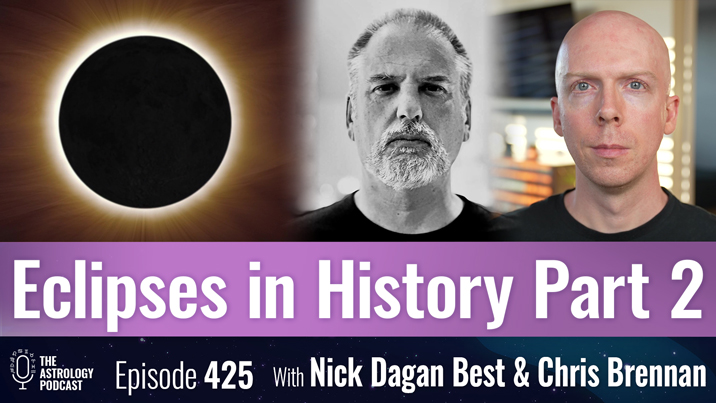 In episode 425 astrologers Chris Brennan and Nick Dagan Best do a followup episode on the astrology of eclipses that coincided with major events in history, where we share more examples from around the world.
We open the episode by reviewing the main discovery that we made in the last episode, which is that 1) important events in history tend to take place around the time of eclipses, and 2) people born near an eclipse tend to have some of the most important events in their lives coincide with eclipses.
We also review the operative range or time frame for eclipses, and what we found is that important events tend to take place within around a week of an eclipse, either before or after.
After that we review some recent events that coincided with the eclipses that just took place in October 2023, and then move on to talking about eclipses in the history of many different countries around the world, with many examples sent in by listeners of the podcast after the last episode.
In this episode we tried to cover more countries and regions that we didn't cover in the last episode, and also add some additional examples we had overlooked in areas we had covered previously.
You can listen to the previous episode on eclipses here:
https://theastrologypodcast.com/2023/10/20/eclipses-aligned-with-pivotal-moments-in-history/
This episode is available in both audio and video versions below.
Nick's Website and Database
https://theastrologypodcast.com/database/
Patreon
Timestamps
00:00:00 Introduction
00:01:25 Eclipses recap and ranges
00:05:38 Recent eclipse examples in October 2023
00:06:23 Israel and Palestine
00:17:40 Mike Johnson eclipses
00:20:30 Matthew Perry eclipses
00:23:26 Chris Brennan eclipses
00:27:27 More British Royal family eclipses
00:36:05 Russian history eclipses
00:47:15 Russian tsars eclipses
01:08:23 Chinese history eclipses
01:12:12 Mexican history eclipses
01:13:25 Brazilian history eclipses
01:15:36 Indian history eclipses
01:22:55 Technology and eclipses
01:27:12 Baseball World Series Eclipse
01:30:05 Mark Twain eclipses
01:49:45 Call for examples + concluding remarks
01:54:20 Nick's work
01:57:10 Chris's work
02:00:21 Patrons, credits, and sponsors
Watch the Video Version of This Episode
Watch the video version of this episode eclipses and major historical events:
–
Transcript
A full transcript of this episode is available: Episode 425 transcript
Listen to the Audio Version of This Episode
Listen to the audio version of this episode or download it as an MP3:
Podcast: Play in new window | Download (Duration: 2:03:56 — 113.9MB)
Subscribe: Google Podcasts | RSS | More