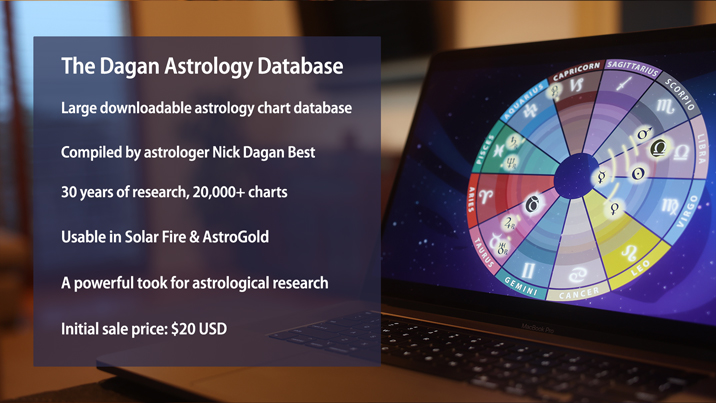 🌟 Discover Limitless Astrological Insights with the Dagan Astrology Database! 🌟
Unleash the power of the stars with the extraordinary Dagan Astrology Database, meticulously curated by astrologer Nick Dagan Best over three decades! For the first time ever, this treasure trove of celestial wisdom is available to individuals, offering unparalleled astrological insights and discoveries.
🔮 What Sets Our Database Apart? Explore over 20,000 meticulously crafted chart files, categorized into three broad segments:
General Natal: Immerse yourself in 13,820 timed and untimed charts, ranging from influential historical figures in politics and the arts to intriguing nativities in sports.
American History: Embark on a journey through 5,886 meticulously collected charts that span the entirety of U.S. history. Uncover the astrological tapestry of America's past, including notable figures and pivotal events.
Great Britain: Explore in 2,576  charts that capture the rich history of Great Britain and Ireland.
🌌 What You'll Find Inside: Each chart file is a treasure trove of information! There are detailed source notes explaining the birth data's reliability, accompanied by a Rodden Rating for easy categorization.
🔍 Unlock the Power of Search: With our database, harness the might of Solar Fire's advanced search feature! Effortlessly locate specific placements within the charts, turbocharging your astrological research capabilities!
💫 Why Choose Dagan Astrology Database? This masterpiece of astrological knowledge represents Nick Dagan Best's three decades of dedicated research. It's not just a database; it's an indispensable tool for enthusiasts, learners, and seasoned astrologers alike.
🌟 Get Your Copy Today! For a limited time, this awe-inspiring database is available at an unbelievable introductory price of only $20 USD!
📥 How to Get Started: Upon purchase, receive an instant download link to a folder containing all the files. Easy-to-follow instructions ensure seamless installation in Solar Fire for Windows, enabling you to embark on your astrological journey immediately.
🌠 Have Questions? Feel free to reach out to Nick at exoteric.astrology@gmail.com. Your enjoyment of the database is our priority, and we are always looking for new ways to improve and expand it.
🚀 Seize the Stars – Purchase Your Dagan Astrology Database Now!
👇 Click the Buy Now Button and Unveil the Mysteries of the Universe for Just $20! 👇

.
.