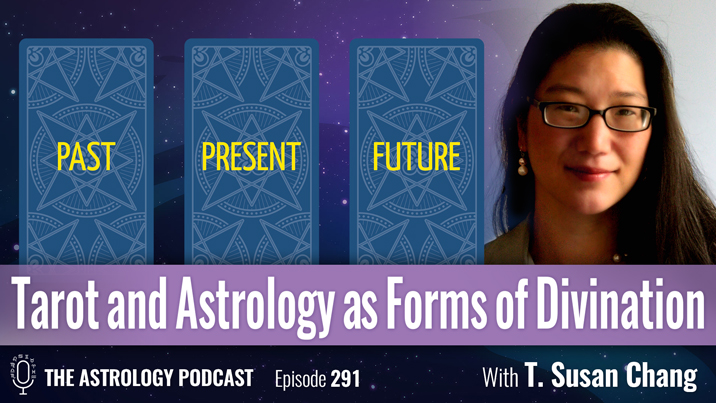 Episode 291 features an interview with T. Susan Chang about some of the parallels between astrology and tarot cards as forms of divination.
Susan is a professional tarot card reader, and the purpose of this discussion was to explore some of the ways that astrology is similar to tarot as a form of divination, versus some of the ways that it is different.
We tried to answer some questions like: how can tarot inform our understanding of what astrology is as a phenomenon? What makes divination divination? What are some different types of divination? What models of reality support the practice?
In some ways this was a nice followup to episode 53 of the podcast with Geoffrey Cornelius on The Moment of Astrology, where we talked about whether astrology is a form of divination or a natural science.
Susan is the co-host the Fortune's Wheelhouse esoteric tarot podcast, as well as the author of the new book 36 Secrets: A Decanic Journey Through the Minor Arcana of the Tarot.
You can find out more about her work on her website:
This episode is available in both audio and video versions below.
Watch the Video Version of This Episode
Here is the video version of this episode on astrology and tarot:
–
Transcript
A full transcript of this episode is available: Episode 291 transcript
Listen to the Audio Version of This Episode
You can either play the audio version of this episode of the podcast directly from the website or download it as an MP3 to your device by using the buttons below:
Podcast: Play in new window | Download (Duration: 2:37:38 — 144.6MB)
Subscribe: Google Podcasts | Stitcher | RSS | More