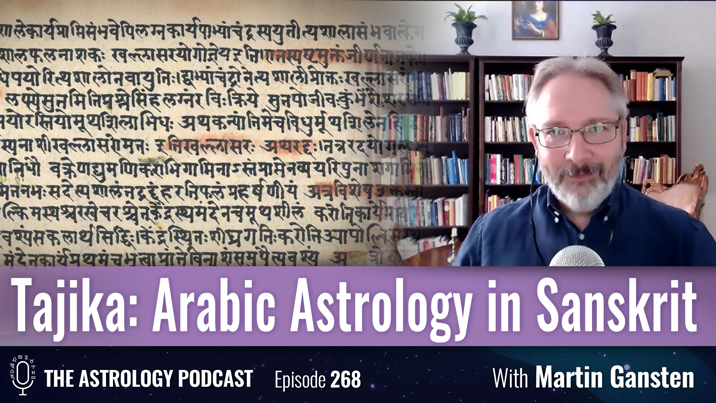 In episode 268 of the podcast Dr. Martin Gansten joins the show to talk about his new translation of a 17th century Sanskrit text on Tajika astrology, which focuses on annual predictive techniques derived from medieval Arabic sources.
Martin is a historian of religion as well as a Sanskrit scholar, who specializes in the study of the history and transmission of ancient astrology.
Earlier this month he published The Jewel of Annual Astrology: A Parallel Sanskrit-English Critical Edition of Balabhadra's Hāyanaratna.
Balabhadra Daivajña was a court astrologer who lived in India in the 17th century. His book called the Hāyanaratna was written in 1649 CE, and his goal was to write a comprehensive survey of the approach to making yearly predictions that is unique to the Tajika tradition.
The Tajika tradition was founded sometime around the 13th century when a compilation of medieval Arabic texts on astrology were translated into Sanskrit, probably starting with an author named Samarasimha (c. 1274 CE).
This began a tradition of astrology in India that looks very similar to medieval western astrology, which incorporates techniques and concepts such as the solar return chart, annual profections, dignities, as well as complex aspect doctrines such as transfer of light and collection of light.
Martin was able to trace the origins of some of these concepts in the Tajika tradition back to the text of the 9th century astrologer Sahl ibn Bishr, although in some instances misinterpretations of the text may have led to the development of new concepts and doctrines.
We ended up spending much of the episode talking about the Tajika tradition as an interesting and important instance of the transmission of astrology from one culture to another, and ultimately perhaps as useful example in our own time when astrologers are attempting to recover and interpret ancient texts.
You can find out more information about Martin on his website:
This episode is available in both audio and video versions below.
Download the Text Discussed in This Episode
Martin's book is available as both a print book as well as a free PDF from the publisher, due to a grant that he received in order to help translate the book:
Part of the purpose of our discussion was to act as a guide to reading the book, and understanding some of the background behind it.
Download the Show Notes
Our show notes for this episode provide an extended outline of some of the main discussion points, and you can download them as a PDF here:
Tajika Astrology Podcast Episode Outline
This outline was compiled by Chris Brennan in preparation for this interview, and any errors or inaccuracies are his own.
Watch the Video Version of This Episode
Here is the video version of this episode with Martin Gansten on Tajika astrology:
–
Transcript
A full transcript of this episode is available: Episode 268 transcript
Listen to the Audio Version of This Episode
You can either play the audio version of this episode of the podcast directly from the website or download it as an MP3 to your device by using the buttons below:
Podcast: Play in new window | Download (Duration: 2:50:19 — 156.0MB)
Subscribe: Google Podcasts | Stitcher | RSS | More