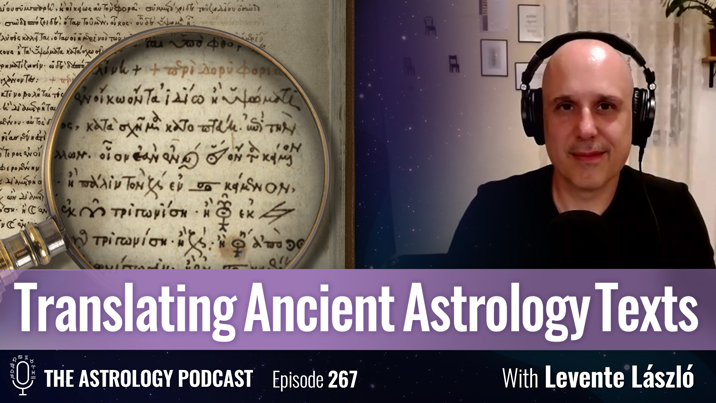 In episode 267 astrologer and scholar Levente László joins the show to talk about his new translation project for ancient Greek astrological texts, and to discuss some of the translations he has completed so far.
Levente is classical philologist from Hungary, and he recently launched the Horoi Project, which is a crowdfunding project to translate ancient astrological texts that survive from the Hellenistic and Byzantine astrological traditions:
https://www.patreon.com/horoiproject/
During the course of the episode we talk about four translations that Levente has been working on recently, and read some excerpts from each of those texts.
The four texts discussed are 1) a work of definitions used in Hellenistic astrology by Porphyry and Antiochus of Athens, 2) a text on how to interpret a birth chart by Rhetorius of Egypt, 3) another text by Rhetorius on electional astrology, and 4) some anecdotes by the 9th century astrologer Shadhan about his teacher Abu Ma'shar.
A PDF of each of the translations discussed in this episode is being released for free today to coincide with this episode, and you can find the links to each below.
This episode is available in both audio and video versions below.
Download the Texts Discussed in This Episode
Levente has released preliminary translations of each of the texts discussed in this episode, and you can download the PDF files below:
🪐 Porphyry, Excerpts from Antiochus' Introduction
🪐 Rhetorius, On the Systematic Interpretation of Nativities
🪐 Shadhan, Discourses with Abu Ma'shar on the Secrets of Astrology
The Shadhan text is only about 1/3 complete, but future updates will be sent out every couple of weeks to subscribers through the Horoi Project page on Patreon.
Timestamps
00:00:00 Introducing Levente and his translation project
00:17:12 Antiochus and Porphyry translation
01:22:20 Rhetorius on steps for interpreting a birth chart
01:49:04 Rhetorius on inceptions and electional astrology
02:01:51 Shadhan on the sayings of Abu Ma'shar
Watch the Video Version of This Episode
Here is the video version of this episode on translating ancient astrological texts:
–
Transcript
A full transcript of this episode is available: Episode 267 transcript
Listen to the Audio Version of This Episode
You can either play the audio version of this episode of the podcast directly from the website or download it as an MP3 to your device by using the buttons below:
Podcast: Play in new window | Download (Duration: 2:32:37 — 139.8MB)
Subscribe: Google Podcasts | Stitcher | RSS | More