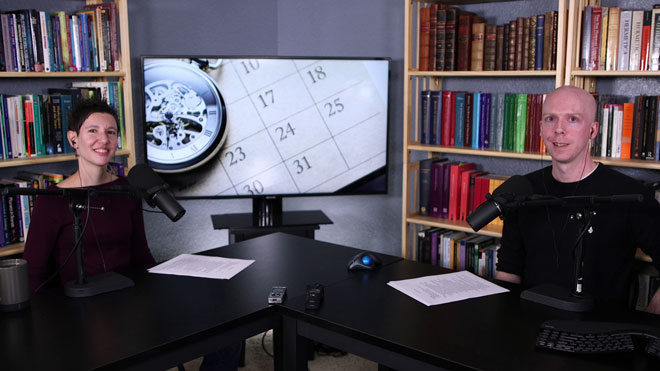 In episode 229 of the podcast, astrologers Leisa Schaim and Chris Brennan discuss whether age is a relevant prerequisite for practicing astrology, and if it is ok to read charts for clients prior to your Saturn return.
The premise of the discussion is that a debate comes up occasionally in the astrological community over how old a person should be to do consultations. Usually astrologers start off by reading charts for friends and family members for free early in their studies, and then eventually the process of starting to charge for astrological readings is seen as a major step or transition point in one's path as an astrologer.
Since astrology is a largely unregulated field, each astrologer ultimately has to decide on their own when they are ready to start seeing clients. When this topic is discussed among professionals, lots of different criteria are usually suggested for determining when a person is "ready", and occasionally age is put forward as a potential piece of criteria or a requirement for practicing.
This piece of criteria is then sometimes proposed as a sort of rule or prohibition: that astrologers shouldn't see clients either until they have reached or potentially only after they have completed their Saturn return, which occurs between the ages of 27 and 30.
While this rule is not generally accepted in the astrological community, as a proposal it sometimes elicits strong reactions from younger astrologers, since it would essentially mean that astrologers can't or shouldn't do consultations until their 30s.
A debate about this recently broke out on Twitter, and the goal of this episode was to talk about the general topic, without necessarily focusing on the recent debate itself. It is an interesting topic that comes up in the community from time to time, and in some ways it has become more relevant again recently after the large influx of younger astrologers into the community over the past few years.
As a former 20-something astrologer and past President of the Association for Young Astrologers, Chris has a strong opinion that astrologers should be able to practice astrology in their 20s, although the goal with this discussion was to try to explore and present some of the pros and cons on both sides of the issue.
This episode is available in both audio and video versions below.
Watch the Video Version of This Episode
Here is the video version of this episode on practicing astrology before your Saturn return:
–
Transcript
A full transcript of this episode is available: Episode 229 transcript
Listen to the Audio Version of This Episode
You can either play the audio version of this episode of the podcast directly from the website or download it as an MP3 to your device by using the buttons below:
Podcast: Play in new window | Download (Duration: 2:10:13 — 89.8MB)
Subscribe: Google Podcasts | RSS | More