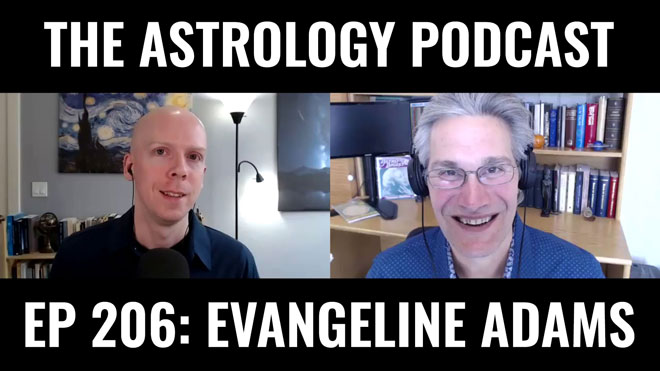 In episode 206 Christopher Renstrom joins the show to talk about the work of the early 20th century astrologer Evangeline Adams, and the development and popularization of astrology in America.
In the first hour of this discussion we talk about the practice of astrology in America in the 17th, 18th, and 19th centuries, and the factors that led to its rise, including spiritualism and the Theosophical Society.
Eventually we get to our main topic, which is the life and work of the early 20th century astrologer Evangeline Adams, who the historian James Holden says was the most famous astrologer in America in the first third of the 20th century.
During the course of the episode we talk about the famous anti-fortunetelling court case that Adams was involved in in 1914, her work with Aleister Crowley as a ghost writer for some of her books, and eventually how she reached the height of her popularity with a syndicated radio show in the early 1930s.
Most of the research behind this episode is based on a book by Karen Christino titled Foreseeing the Future: Evangeline Adams and Astrology in America, which was originally published in 2003, and released in a revised edition earlier this year.
Karen was not available to do an interview, but she suggested that I talk with Christopher, who has done a lot of research on the development of astrology in America.
Christopher recently gave a great lecture titled Trash Astrology: A History of Pop Astrology in America, which chronicles the popularization of astrology in the United States.
This episode forms a nice followup to a few previous episodes, such as The Modern Revival of Astrology, with Nick Campion, and Elsbeth Ebertin and the Rise of Women in Astrology. Check out those episodes if you would like to explore some of the themes in this one further.
This episode is available in both audio and video versions below.
Watch the Video Version of This Episode
Here is the video version of our episode on Evangeline Adams:
–
Transcript
A full transcript of this episode is available: Episode 206 transcript
Listen to the Audio Version of This Episode
You can either play this episode of the podcast directly from the website or download it as an MP3 to your computer by using the buttons below:
Podcast: Play in new window | Download (Duration: 2:39:44 — 110.0MB)
Subscribe: Google Podcasts | RSS | More