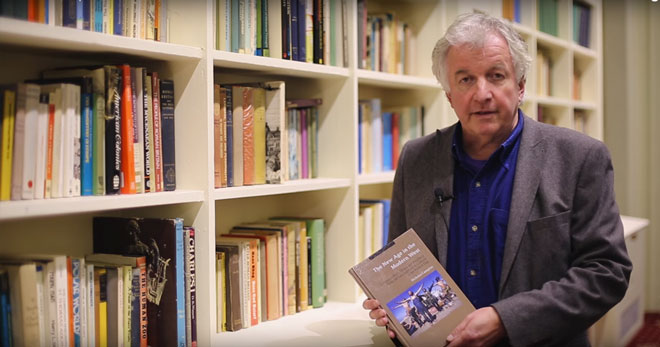 In episode 113 of the podcast I interview Dr. Nicholas Campion of the University of Wales Trinity Saint David about the revival of the practice of astrology in the west in the late 19th and early 20th century.
Nick is the leading historian in the world on the history of astrology in western culture, and he is the author of several books on the subject, including the authoritative A History of Western Astrology, Volume 1 and Volume 2, and more recently Astrology and Popular Religion in the Modern West: Prophecy, Cosmology and the New Age Movement.
Nick is the head of the Sophia Centre for the Study of Cosmology in Culture, which offers an MA program in Cultural Astronomy and Astrology at the University of Wales Trinity Saint David. This is the only academic degree in the world which explores humanity's relationship with the sky.
Below you will find the show notes and an outline of some of the main points of the discussion, followed by links to download or stream the recording of this episode of the podcast at the bottom of the page.
Show Notes and Episode Outline

The practice of astrology in Europe declined from the 17th century onward.

What were some of the reasons for this decline?

Last great flourishing in England with Lilly and some of his contemporaries.
The practice of astrology reaches a low point in the 18th and early 19th centuries.

Survives in the form of popular almanacs.
Additional esoteric strand went into masonry, then returns in magic & theosophy

Revival of interest and practice occurs in late 19th and early 20th centuries.

Begins with spiritualism and the Theosophical Society.
Beginnings of the New Age movement, modern millenarianism, etc.

The pivotal role of Alan Leo in reviving the practice around the turn of the century.

Connection with Blavatsky and the Theosophical Society
Writes a number of books and articles.

Books circulated widely and translated into other languages

Innovative way of doing mass market astrology delineations.
Desire to simplify the techniques to make them easier to learn.
Move towards character analysis.

Role of other figures.

Sepharial
Marc Edmund Jones

Dane Rudhyar and the birth of psychological astrology.

One of the first to incorporate Jung's work on depth psychology.
Most prolific astrological author ever?

Invention of the Sun-sign column in the 1930s.

Subsequent popularization of astrology via Sun-signs

Explosion in popularity of astrology with younger generations in 1960s and 70s.

Part of the counterculture and New Age movement.

Aftermath. Flourishing of astrology in the late 20th century.
Postscript: the place of astrology in academia.

Why is it important to study the history of astrology?
Transcript
A full transcript of this episode is available: Episode 113 transcript
Listen to This Episode
You can either play this episode of the podcast directly from the website or download it as an MP3 to your computer by using the buttons below:
Podcast: Play in new window | Download (Duration: 1:42:47 — 47.4MB)
Subscribe: Google Podcasts | Stitcher | RSS | More