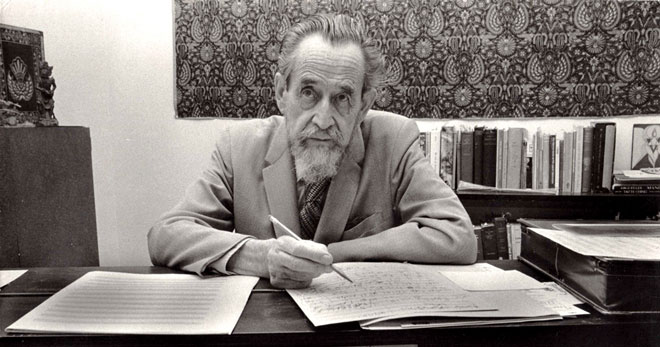 In episode 112 of the podcast Chet Zdrowski joins the show to talk about the life and work of the influential 20th century astrologer Dane Rudhyar.
Rudhyar is a towering figure in mid- to late-20th century astrology due to the technical and conceptual work that he did in reformulating astrology for modern times, as well as due to how prolific he was in authoring 40+ books on astrology and hundreds of articles.
During the course of the show we realized at one point that he may very well be the most prolific author of astrology books and articles of all time, as we were unable to think of anyone who wrote more than he did during the course of his life.
Chet specializes in Rudhyar's work, and has recently started lecturing about different aspects of his philosophy and technical approach to astrology. You can find out more information about Chet's work at:
Below you will find the show notes, followed by links to download or stream the recording of this episode of the podcast at the bottom of the page.
Show Notes and Episode Outline

Here is an outline of our discussion from the show notes that were prepared prior to recording this episode, most of which were written by Chet. While we covered most of the points mentioned here, there were a few things that we didn't get to due to time constraints.
Introduction
Astrology died out in the west in the 17th century.
Revived in the late 19th and early 20th century via Theosophy & New Age movement.
Three important figures were Alan Leo, Marc Edmund Jones, and Dane Rudhyar.
Rhudyar's period of activity spanned from the 1930s-1980.

He was a prolific author. How many books?

While he cannot be credited with the revival in the same way Leo can, he was one of the most pivotal figures in establishing the philosophical and conceptual foundations of modern astrology.

He focused not just on techniques, but first principles, which provide a philosophical structure underlying the techniques.
Many astrologers have been exposed to his ideas but may not know that they originated with him.

Let's talk about his life and work.
He was born in France in March 23, 1895 as Daniel Chennevière.

Early interest in piano and music in general.
Health problems, lost a kidney and adrenal gland at age 11, lots of home schooling.
He read quite widely: Nietzsche, Freud, Henri Bergson, Plato etc…
Death of his father at age 16, had a major epiphany about cyclic nature of world.
Coming to America
Wrote first book on Debussy at age 17,
spent a lot of time in avant garde Parisian circles
At 21, during the World War I, he sailed to NY with some friends, arrived 1916
The Starving Artist Archetype… pennies in his pockets
Music Copying, House Concerts, House Lectures, freezing in his NY apartment
NYC Public Library, introduction to Buddhism and Indian thought
Changed his name to Rudhyar, from Vedic god Rudra, reasons why…
Landing in California
Krotona astrology class at Theosophical center- 1920, soon after arriving in Hollywood
Didn't join the Theosophical Society, BJ Wadia was his Theosophical mentor
Acted in silent films for a while, found it "uncertain and boring", played Christ in a play for 2-3 months
Many House Concerts, House Lectures on psychology, music, philosophy and later astrology
Wrote steady stream of articles on music and metaphysics during the 1920s, used pen names also
During the 1920s he composed and performed a lot of music
Wrote "Rebirth of Hindu Music" a very early book on both World Music and Indian Music
He read material from ME Jones in 1930, got very excited about the possibilities for astrology
Music and how it influenced his astrology
Pythagorean connections between music and astrology, from his first book to his last book
Pythagoras as a seed man, "carried forth the Orphic mysteries"
He often talked of astrology in musical terms of Chords of personality, Progressions, Vibrations etc.
2009 Biography, on his Music… he would be very happy that the first biography was about his music.
Rudhyar's Music… Ultra-Modernist, Avant Gard… Scriabin, Schoenberg, Varese… "challenging music"
He could have just played Chopin, Saint-Saens, Debussy and been more popular, had to be Avant Gard…
Sample…"Stars" by Rudhyar performed by Masselos on YouTube, or Kronos Quartet plays Rudhyar
He did less music when his astrology workload ramped up… took up painting while living in Santa Fe-1941
He had two phases of renewed public interest in his music, 1949-1953, and 1969-75, these made him happy
His first book was on Debussy, second book was "Rebirth of Hindu Music"
His very last book, in 1982 was "THE MAGIC OF TONE and the Art of Music"
Initial Formation of his Astrological Ideas
Many influences for his initial flood of ideas and work

Astrological… Alan Leo, Sepharial, Max Heindel, Marc Edmund Jones, Ptolemy, Gadbury
Philosophical… Blavatsky, Jung, Freud, Henri Bergson, Platonism
New Sciences… Einstein's Relativity, Quantum Mechanics, Holism, Complexity & Emergence
Writing, Writing, Writing
Wrote lots of articles on music, art, psychology, philosophy during the 1920s
Harmonic Astrology pamphlets greatly impressed Alice Bailey and Paul Clancey 1932
Paul Clancy was starting American Astrology, told Rudhyar "I'll publish whatever you write" 1933
Astrology of Personality – 1936.
He wrote well over 1000 articles over the next 45 years, this was a constant in his life.
Many articles later appeared in his books
He was quite open to new techniques and ideas, he had a lot of column space to fill every month.
American Astrology, Horoscope, World Astrology, Current Astrology, The Astrologer, American Theosophy, Canadian Theosophist, The Occultist, Hamsa… are some of the magazines he wrote for.
Two pen names in astrology magazines, Francis J. Ramsey, Daniel Morrison, other pen names also
He wrote between 44-50 books, depending on what you would call his pamphlets.
During the course of his career he wrote books on Astrology, Philosophy, Music, Poetry
I'm wondering if he was the most prolific astrological writer in history, maybe, any other candidates?
Later Influences on his Work
Roberto Assagioli, Sri Aurobindo, Teilhard de Chardin, Rupert Sheldrake
(This is almost a "Who is Who" of CIIS heroes)
What is astrology for?    
Developing the Mind of Wholeness, Seeing the life as a Whole, Learning to use Crisis
Rudhyar's Prime Concerns…The Way of the Sage is beyond Good and Bad…
Structure vs. Content- archetypes have a range of expression, he calls this idea "content"
Path of Transformation and The Alchemy of Personality, he had a very Hermetic view
Some Key Concepts
Unity of Opposites, Day Force & Night Force
Harmonizing of Eastern and Western Paths- Theosophy and Beyond
Fate vs. Freewill
Karma and blaming the victim
Additional themes
Fields and the dimension of Interpenetrating Fields
Humanistic and Transpersonal Astrology
Holism and the "Movement of Wholeness"
He was a major pioneer in the study of the cycles and importance of the Outer Planets
Accessing Rudhyar's Work… Resources
Rudhyar Audio Archives – 22 hours of excellent recorded talks, a treasure for all astrologers.
Ruhyar Archival Project – lots of great articles, several out of print books, very good illustrated biography
Piano piece "Stars" by Rudhyar – Performed by Antonio Oyarzabal
Kronos Quartet Plays Advent by Rudhyar – String quartet
Additional Audio Recordings on KPFA Berkeley website
Several of his books have been republished by Aurora Press and are currently in print.
Books to start with… Lunation Cycle, Pulse of Life (Khaldea), Astrological Insights into the Spiritual Life, and Astrological Aspects, co-written with his wife Leyla
The Lunation Cycle Book
He had so many important ideas over his 50+ year career that it would be impossible to discuss them all.
A good place to start seems to be with one of the techniques most associated with him, The Lunation Cycle
Highly influential book, a smaller version, "The Moon" published in 1945, publisher abandoned astrology
Republished with newer material about New Moon before Birth and Progressed Lunation cycle 1967
Many, many astrologers use this technique and concepts, Demetra has done beautiful work with this…
Steven Forrest's "Book of the Moon" is a wonderful addition to Rudhyar's Moon work
Current version has a 60-page addition from Leyla, his wife, it's an excellent reason to buy this version
Topics from the Lunation Cycle
Cycles of Position… Cycles of Relationship
Progressed Moon is a Cycle of Position, Progressed to Natal, was a major tool for him, not covered here
The Soli-Lunar Cycle- 8-phase system, not very different from Valens 11-phase system, Book II
Soli-Lunar Types in detail, brief description of the 8 types
The Progressed Lunation Cycle- Progressed Sun to Progressed Moon, is it a Time Lord system?
Part of Fortune, Part of Spirit, and the "Point of Illumination"
How would Rudhyar view Zodiacal Releasing?
Rudhyar in the 1960s and the 1970s
Young people flocking to him, he became much more widely known
The Counter Culture embraced him… maybe LSD was needed to catch up to his thought
Elvis Presley… Summer of Love and Rudhyar's chart
Uranus-Pluto conjunction happened very close to his South Node of the Moon in 1967
Talks at Esalen, Richard Tarnas called these pivotal
Talks at California Institute of Asian Studies(CIAS), later called CIIS
The Indian philosopher that inspired CIIS, Sri Aurobindo, became central to Rudhyar in the 1940-1950s
He married Leyla Rael in 1974, during probably the peak of his "fame" and influence.
Leyla was a huge factor in getting much of his later work finished and published, and caring for him
Preservation of his legacy and unpublished work
It's been 32 years since his passing in 1985 at age 90
His influence is still as strong as it has ever been, some of that is due to the popularity of …
Evolutionary Astrology, Psychological Astrology, Archetypal Astrology and other systems
However much of that influence has been indirect, he himself is getting less known as time goes on
It seems important to explore the many gems still virtually unknown in his teachings
It seems important and right to acknowledge his contributions
Transcript
A transcript of this episode is available: Episode 112 transcript
Listen to This Episode
You can either play this episode of the podcast directly from the website or download it as an MP3 to your computer by using the buttons below:
Podcast: Play in new window | Download (Duration: 2:10:42 — 60.2MB)
Subscribe: Google Podcasts | RSS | More