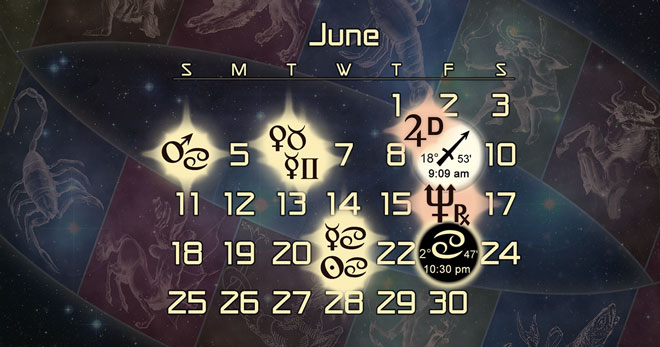 In episode 110 of the podcast astrologers Kelly Surtees and Austin Coppock join the show in order to talk about the astrological forecast for June of 2017.
This month features Mars moving into Cancer, Jupiter stationing direct in Libra, a Mercury-Sun cazimi in Cancer, and much more.
Later in the show I highlight one auspicious electional chart will be useful for launching different types of ventures and undertakings, using the principles of electional astrology.
The artwork for this episode comes from the 2017 Planet Watcher astrology calendar.
Below you will find the show notes, followed by links to download or stream the recording of this episode of the podcast.
Sponsors and Giveaway for May
At the top of this episode I briefly talk about our sponsors for this month, which are:
Solar Fire 9, a popular desktop astrology program produced by Astrolabe Inc.
Astro Gold, an advanced astrology software app which is available for both iPhones and Android devices.
Listeners of the podcast can get a 15% discount on Solar Fire when they use the promo code AP15 when purchasing the program through the Astrolabe website.
For more information about these programs and our monthly giveaway see the May description page.
Podcast Listener Meet and Greet at NORWAC
Chris will be doing a book signing at the Northwest Astrological Conference after his talk at the end of the day on Friday, May 26. If you are a podcast listener and you would like to come say hi and meet some other listeners then please drop by and see us that day.
Astrological Alignments for June of 2017
Here are some of the major alignments that we talk about for this coming month:
Mars ingresses into Cancer June 4
Venus into Taurus June 6
Mercury intro Gemini June 6
Jupiter stations direct in Libra June 9
Full Moon in Sagittarius June 9
Neptune stations retrograde in Pisces June 16
Mercury into Cancer June 21
Sun into Cancer June 21
New Moon in Cancer June 23
Electional Chart for June
Here is the primary auspicious electional chart that we highlighted for June:
We also talked about this chart in a video promo this month on YouTube:
There are three more electional charts that we found for June, which we talk about in our private subscriber-only podcast on auspicious elections this month.
If you would like to get access to that then all you have to do is become a patron of the show on the $5 or $10 tier through our page on on Patreon, and then you will immediately and get access to the 45-minute auspicious elections podcast, which is available in both audio or video format.
Timestamps
Here are some timestamps for those who would like to skip ahead to the forecast section of this episode of the podcast:
00:00 – 22:00 – preliminary discussion, monthly promo and giveaway announcements, etc.
22:00 – 1:13:00 – initially reviewing some astrological things from the past month, an then moving into the forecast for June.

1:13:00 – 1:50:00 – by around 1:13:00 we pretty much finish talking about the forecast for June and have a long digression about astrology and magic.

Listen to This Episode
You can either play this episode of the podcast directly from the website or download it as an MP3 to your computer by using the buttons below:
Podcast: Play in new window | Download (Duration: 1:50:16 — 50.8MB)
Subscribe: Google Podcasts | RSS | More