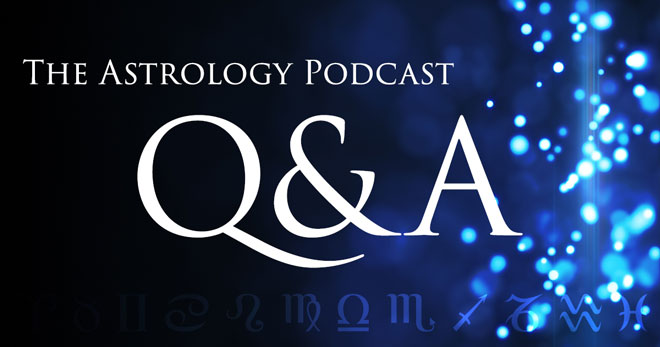 In episode 103 astrologer Kelly Surtees joins the show in order to help answer questions from listeners and patrons of the podcast on a variety of astrological topics.
We received so many questions for our last Q&A episode, which was episode 100, that we decided to do a followup show with just Kelly and Chris in order to get to the rest. In the end it took us about 2 hours, but we got through them all!
Below you will find the show notes, followed by links to download or stream the recording of this episode of the podcast.
Announcing Giveaway for April
At the top of this episode I announce the giveaway prizes for April:
A pass to the upcoming Northwest Astrological Conference, which is taking place May 25

–

29, 2017 in Seattle, Washington. Discounted registration rates for NORWAC end on April 22, so sign up now for a lower price.
A copy of Ben Dykes' new translation of Dorotheus of Sidon, which will be released later this month.
For more information about the giveaway and how to enter see the April description page.
Episode Outline
Here are shortened versions of some of the question topics that we talked about during the course of the episode:
What are the different branches and traditions of astrology? See also episode 29.
How do you reconcile different schools and approaches that disagree with each other?
How do you deal with the myriad of new astronomical findings?
Where do you see astrology headed professionally and publicly in the future?
Do you look at secondary progressions or transits when picking an election?
How do New Moons and the concept of under the beams relate to elections and starting new projects?
Did ancient and traditional astrologers use relocated charts?
How are planetary speed and stations used as interpretive principles?
What are some of your reasons for believing in the validity of astrology?
What are the strongest arguments against the validity of astrology?
Thanks to all of our patrons who sent in questions!
Listen to This Episode
You can either play this episode of the podcast directly from the website or download it as an MP3 to your computer by using the buttons below:
Podcast: Play in new window | Download (Duration: 2:14:32 — 108.1MB)
Subscribe: Google Podcasts | Stitcher | RSS | More