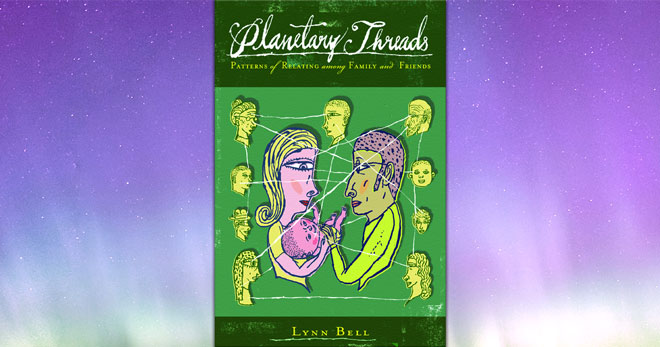 In episode 104 of the podcast astrologer Lynn Bell joins the show to talk about the astrology of family dynamics, as seen through the natal chart and synastry.
Most of our discussion focuses on subjects that are dealt with in her book on the topic, titled Planetary Threads: Patterns of Relating Among Family and Friends.
You can find out more information about Lynn on her website www.lynnbellastrology.com.
Below you will find the show notes, followed by links to download or stream the recording of this episode of the podcast.
Sponsors and Giveaways for April
At the top of this episode I announce the giveaway prizes for April:
A pass to the upcoming Northwest Astrological Conference, which is taking place May 25

–

29, 2017 in Seattle, Washington. Discounted registration rates for NORWAC end on April 22, so sign up now for a lower price.
A copy of Ben Dykes' new translation of Dorotheus of Sidon, which will be released later this month.
For more information about the giveaway and how to enter see the April description page.
Timestamps and Some Topics Covered
00:00 – 02:18: show introduction and giveaway announcements for April.
02:18 – Interview with Lynn begins
A little bit of background info on Lynn, where she came from, training, etc.
Planetary Threads: Patterns of Relating Among Family and Friends

2013, Ibis Press. Revised and expanded version of 1999 publication.
Mainly an edited transcript of seminars presented at the Center for Psychological Astrology in 1997/8.

Primarily focuses on family dynamics, but also other areas like friendship.
How the birth charts of individuals interact with each other and describe dynamics that develop between those individuals.

Parents, siblings, grandparents, cousins, etc.

Sometimes similar chart placements or signatures repeat across different generations.
How the family contributes to our experience of ourselves.

Two people might be born with the same birth chart, but in a different family.
How might different families emphasize different chart placements.

Different planetary signatures and how they can manifest in different family dynamics.
Lynn's work on the planetary joys scheme and its relevance in interpreting the houses.
Transcript
A full transcript of this episode is available: Episode 104 transcript
Listen to This Episode
You can either play this episode of the podcast directly from the website or download it as an MP3 to your computer by using the buttons below:
Podcast: Play in new window | Download (Duration: 1:54:57 — 53.0MB)
Subscribe: Google Podcasts | Stitcher | RSS | More