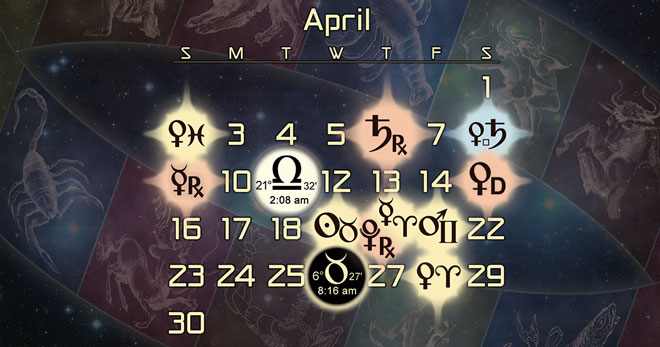 In episode 102 astrologers Kelly Surtees and Austin Coppock join the show to talk about the astrological forecast for April of 2017.
We open the show with a long discussion about astrology sometimes giving you information about odd things that you don't really need to know.
Later in the episode I also highlight one auspicious electional chart for the month of April, using the principles of electional astrology.
The artwork for this episode comes from the 2017 Planet Watcher astrology calendar.
Below you will find the show notes, followed by links to download or stream the recording of this episode of the podcast.
Winners of March Giveaway Prizes
Since this is the last episode of the month we announced the winners of this month's giveaway prizes, which were:
A free pass to the upcoming Organization for Professional Astrology retreat, which will take place October 19-22, 2017 at the beautiful Zion National Park, in Utah.
A signed copy of Chris' new book, Hellenistic Astrology: The Study of Fate and Fortune.
The winner of the pass to the OPA retreat was listener Alec Senese, while the winners of a signed copy of Hellenistic Astrology were listeners Bonnie Heatherington Robson, Mari Minegishi, and Dave Fassett.
Thanks for OPA for sponsoring the show this month, and congrats to all of the winners! For more information about how to enter the drawing for next month see the giveaway description page for March.
Major Astrological Alignments in April
Venus ingresses into Pisces April 2
Saturn stations retrograde April 6
Venus squares Saturn April 8
Mercury stations retrograde April 9
Full Moon in Libra April 11
Venus stations direct April 15
Sun ingresses into Taurus April 19
Pluto stations retrograde April 20
Mercury ingresses into Aries April 20
Mars ingresses into Gemini April 21
New Moon in Taurus April 26
Venus ingresses into Aries April 28
Auspicious Electional Chart for April
To hear about other auspicious electional charts in April you can sign up to become a patron of the show on the $5 tier and then you will have access to a 45-minute discussion where we talk about the pros and cons of this chart as well as three others.
Timestamps
00:00 – 6:30 we catch up and talk about stuff going on in our personal lives.
From 6:45 – 29:00 we have a discussion about astrology telling you odd things that you don't really need to know.
29:00 – 38:00 we announce the giveaway winners for March.
38:00 onward we talk about the astrological forecast for April.
Other Relevant Links
Listen to This Episode
You can either play this episode of the podcast directly from the website or download it as an MP3 to your computer by using the buttons below:
Podcast: Play in new window | Download (Duration: 1:49:47 — 50.6MB)
Subscribe: Google Podcasts | RSS | More