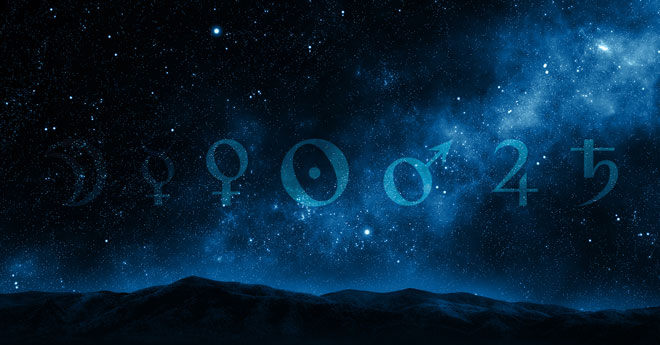 In episode 64 Kelly Surtees and Austin Coppock  join the show to talk about the meanings of the seven classical celestial bodies, as well as how astrologers developed those meanings.
The topic was motivated by Chris recently finishing a translation of a chapter on the significations of the planets from the 2nd century astrologer Vettius Valens, and wanting to discuss how astrologers conceptualized the planets when there were just seven.
Part of the purpose of this episode is to help astrologers become more familiar with the meanings of the visible planets, and how their meanings function as an interrelated group.
Below you will find an outline of some of the topics covered during the course of the episode, followed by links to stream or download the recording.
Episode Outline
The set up is that I've been working on this chapter of my book on the planets over the past month, and wanted to talk about it.
Finalized a translation of Valens 1, 1 on the natures of the planets.
Important for astrologers to get a good grasp of the 7 traditional planets on their own, and not be overly dependent on the outer planets, like a crutch.
The 7 traditional planets are visible to the naked eye

Visibility distinction may still be relevant today

Sun and Moon included as "planets"
The original meaning of "planet" in contrast to the current one (wandering star)
Where do the significations come from? How would one generate them from scratch?
While mythology is relevant, it is not as important or resorted to as frequently in the early tradition as one might expect.

Only in modern times that this becomes the primary go-to for meanings.
Raises some issues or questions about new planet discoveries, and whether some of the meanings aren't being generated on a partially mistaken premise.

Most fundamental distinction is benefic / malefic.

Tied into observational fact that Venus & Jupiter are bright / Mars & Saturn dark.
Allows for contrasts between polar opposites. Moral opposites. Subjective opposites.

Contrariety becomes a core concept more broadly.
In order for something to signify something, then something must signify the opposite or alternative.
Ptolemy's basic natures and temperaments.
Modifications due to planetary condition.
Difficulty of articulating an archetype.
Discussion of some of the main significations of the seven classical planets, starting with the Moon and then moving up to Saturn.
Transcript
A full transcript of this episode is available: Episode 64 transcript
YouTube Version
A YouTube version of this episode was later released on January 21, 2020. The audio was reedited and improved, and there are timestamps for different parts of the discussion, but otherwise there is no video content added because we only recorded audio when we did this episode.
Listen to This Episode
You can either play this episode of the podcast directly from the website or download it as an MP3 to your computer by using the buttons below:
Podcast: Play in new window | Download (Duration: 1:59:34 — 82.5MB)
Subscribe: Google Podcasts | RSS | More