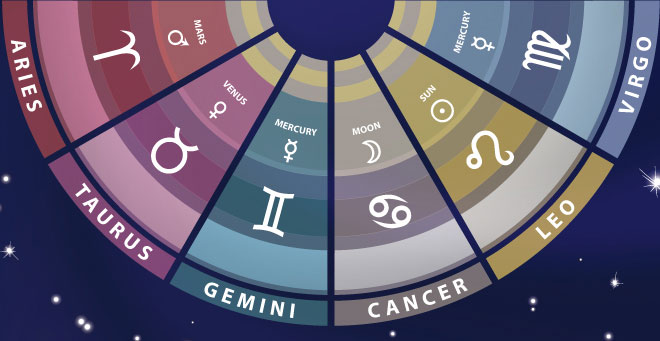 In episode 175 astrologers Kelly Surtees, Austin Coppock, and Chris Brennan discuss the symbolism of the first six signs of the zodiac: Aries, Taurus, Gemini, Cancer, Leo, and Virgo.
This is the first installment of a two-part series where we plan to give an in-depth overview of the qualities and meanings of all twelve zodiacal signs.
At the beginning of the episode we discuss the basic categories of the signs, which are are 1) gender, 2) modality, 3) element, and 4) planetary ruler.
After the introduction is out of the way, we spend about 20 minutes talking about the symbolism and meaning of each zodiac sign in order, starting with Aries.
This is a followup to a previous episode on the significations of the seven traditional planets, which gave a detailed introduction to the meanings of the planets, and that was complimented by another episode on the meanings of the outer planets.
Part 2 of this series will be recorded sometime next month, and there we will discuss the other six signs of the zodiac: Libra, Scorpio, Sagittarius, Capricorn, Aquarius, and Pisces.
This episode is available in both audio and a video versions below.
Timestamps for the Audio Version
Here are some timestamps for the audio version of this episode, if you want to jump around to different sections. See the description page below the video on YouTube for timestamps for the video version.
00:00:00 – 00:44:35: Introduction and sign categorizations
00:44:35 – 00:44:35: Aries
01:11:20 – 01:26:50: Taurus
01:26:50 – 01:48:30: Gemini
01:48:30 – 02:07:15: Cancer
02:07:15 – 02:34:01: Leo
02:34:01 – 03:06:00: Virgo
Watch the Video Version of This Episode on the Signs of the Zodiac
Here is the video version of this episode, on the meaning of the zodiacal signs Aries – Virgo:
–
Transcript
A full transcript of this episode is available: Episode 175 transcript
Listen to the Audio Version of This Episode
You can either play this episode of the podcast directly from the website or download it as an MP3 to your computer by using the buttons below:
Podcast: Play in new window | Download (Duration: 3:05:46 — 85.4MB)
Subscribe: Google Podcasts | Stitcher | RSS | More