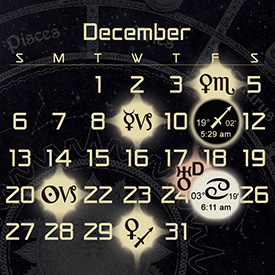 In episode 55 Austin Coppock and Kelly Surtees join the show to discuss the astrology forecast for the upcoming month of December 2015.
During the course of the show we cover topics such as the Saturn-Neptune square, the reactivation of the Uranus-Pluto square, a great deal of mutable placements, and more.
We also start the show by talking about some early examples of people having Saturn returns in Sagittarius, first with Shia LeBeouf, and then with Ronda Rousey.
I also introduce some auspicious electional charts for different dates during the month of December, largely focusing on the first half of the month, where the good elections seem to be more plentiful.
This episode was recorded live in front of an audience of our Patreon supporters through our monthly webinar format, and both and audio as well as a video recording of the episode is available below.
The cover art for this episode is taken from the PlanetWatcher 2015 Astrological Calendar, which is produced by New York City-based astrologer Kirk Kahn.
Below you will find an outline of some of the different topics that we touched on during the course of the show, followed by links to download or stream the recording.
News and Announcements
Kelly will be visiting Australia and doing a 2-day intensive on planetary movement in the chart Sydney in January. You can find out more information about the intensive on her website.
Austin is releasing the recordings of some live classes that he has been teaching all year, and they are on sale through the end of November on his website AustinCoppock.com.
Chris just released a new 9-hour lecture on the Hellenistic time-lord technique called Annual Profections, and it is available for sale on his website individually or as part of his full course on Hellenistic astrology.
Episode Synopsis / Topics Covered
Early Saturn Return in Sagittarius Examples
Shia LaBeouf essentially does a live televised Saturn return, watching all of his movies in reverse chronological order.
Ronda Rousey just was defeated in a surprise upset MMA fight.
Other Saturn in Sagittarius News
The terrorist attacks in Paris.
The immigration crisis and increased discussion about it around the world.
Uranus-Pluto Hijinks!
Uranus-Pluto-Mars T Square Badness: going to be a bit of a rollercoaster!
Mars square Pluto, Dec 6/7 (Sun sextile Mars too) then opposite Uranus Dec 10/11
Mercury crosses Pluto while Ur-Pl are about as close as they're ever going to get again .   Dec 19/20
Miscellaneous
The very first Sun-Saturn conjunction in Sagittarius occurs November 29.
A lot of mutable placements. Pileup in Sag. Jup in Virgo. Nep in Pisces.
Mars is chilling in Libra all month.
Venus in Scorpio
New Moon in Sagittarius December 11
Full Moon in Cancer December 25
Mercury into Capricorn, other than for a brief visit into Aquarius in early January, Mercury is in Capricorn until mid February.
Mercury in its shadow December 19 around 14 Capricorn, which is conjunct Pluto, squaring Uranus. Also sort of square Mars. Might make for a dicey Mercury retro for some people.
Solstice
Uranus Direct on Christmas + Cancer Full Moon on December 25.
Auspicious Electional Dates and Charts
General note: decent elections in the first half of December, but I've got nothing really for the second half.
December 3 at 4:10 p.m., with 5° Gemini rising. Mercury is the ruler of the Ascendant, and it is placed in Sagittarius in the 7th house, applying to a square with Jupiter in Virgo in the 4th. Both planets are in their signs of their "detriment" or "exile," but they are arguably strengthened through the mutual reception, and Jupiter is also made more benefic as a result of this being a day chart. The Moon is in Virgo in the 4th house, applying to a square with Mercury, with reception, followed closely by a conjunction with Jupiter. Saturn is in the 7th along with the Sun and Mercury, which has the potential to provide some challenges related to partnerships, but since it is a day chart these should be surmountable in the long run. Just make sure that whatever you are electing is initiated prior to sunset, otherwise the placement of Saturn will become much more problematic.

Alternative on December 1 at same time with Moon in Leo.

December 3 at 12:30 p.m. with 12° Pisces rising. Jupiter is the ruler of the Ascendant, and it is located in Virgo in the 7th house, with Mercury ruling the 7th and applying to a square with Jupiter from Sagittarius in the 10th. While this chart is similar to the Gemini rising chart from later in the same day, it has much more of a 10th house focus due to the presence of Mercury, the Sun, and Saturn there, and thus it is more suitable for initiating actions that have to do with one's career or reputation.
December 14 at 9:55 a.m. with 2° Aquarius rising. Saturn is the ruler of the Ascendant, and it is placed in Sagittarius in the 11th whole sign house, in a day chart along with the Sun. The Moon is in early Aquarius in the 1st, applying to a sextile with Saturn. The 11th house emphasis would make this chart useful for working with friends or groups, especially in order to organize or structure matters pertaining to finances, with Jupiter ruling the 11th and placed in the 8th. There are potential problems in terms of travel or foreign affairs though with Mars in the 9th by day.
December 21 at 11:30 a.m. with mid-Pisces rising. Jupiter ruling the Ascendant, placed in Virgo in the 7th house, along with Mercury in Capricorn in the 11th and applying to a trine with Jupiter. The Moon is exalted in Taurus and applying to trines with Mercury and Jupiter. This chart combines some of the themes of the previous elections by emphasizing partnership and friendship, although it has more serious drawbacks than the others due to an applying square between Mercury and Mars. As a result of this I would heavily favor the elections from earlier in the month over this one.
Video Version of the December Forecast Episode
You can watch the video version of this episode on YouTube:
Astrology Forecast for December of 2015
Audio Version of the December Astrology Forecast
You can either play the audio version of this episode of the podcast directly from the website or download it as an MP3 to your computer by using the buttons below:
Podcast: Play in new window | Download (Duration: 1:43:39 — 47.6MB)
Subscribe: Google Podcasts | Stitcher | RSS | More