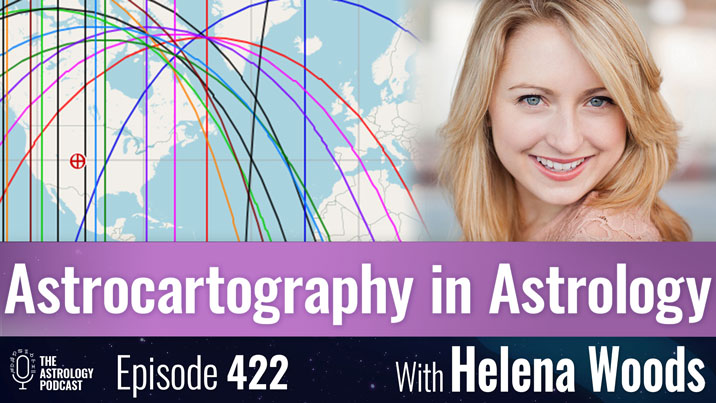 In episode 422 astrologer Helena Woods joins the podcast to talk about astrocartography, which is the astrology of travel and relocation, and can be used to find the best places to live.
Astrocartography was developed in the 1970s by the astrologer Jim Lewis, and since that time it has become a popular application of the astrology that is used to study how your location in different parts of the world can emphasize different parts of your birth chart.
Astrocartography is an extension of relocational astrology, where the birth chart is recalculated for different locations on Earth, and it uses an innovative graphic imaging approach in order to visualize the planetary lines of power across the globe.
During the course of the episode we give an introduction to astrocartography and an overview of how it works, and also discuss some chart examples to demonstrate how it can be used in practice.
Helena specializes in astrocartography, and has a popular YouTube channel where she talks about it and shares vlogs of her travels around the world.
Find more about Helena's work on her website:
This episode is available in both audio and video versions below.
Timestamps
00:00:00 Introduction
00:01:01 Overview of astrocartography
00:03:30 Helena Woods' background
00:06:23 Jim Lewis: founder of astrocartography
00:09:35 Chris' relocated birth chart
00:21:07 Astrocartography and transits
00:24:07 Helena's relocated birth chart
00:38:48 Mars lines and US presidents
00:42:00 Chris' Neptune line
00:44:32 Why Chris is a fan of astrocartography
00:45:32 Paran lines
00:47:42 Chiron
00:50:59 Kim Kardashian
00:56:42 Hillary Clinton
00:58:27 Olivia Rodrigo
01:00:56 Donald Trump
01:01:43 Zelda Fitzgerald
01:04:25 F. Scott Fitzgerald
01:06:27 Walt Disney
01:12:06 The four angles in astrocartography
01:14:36 Saturn on the angles
01:18:34 Neptune on the angles
01:19:17 Uranus on the angles
01:20:35 Aspects, sect, and dignities
01:23:25 Misconceptions of astrocartography
01:28:08 Astrocartography trademark
01:30:30 Cyclocartography
01:34:34 How Helena works with clients
01:38:43 Recommended software
01:42:00 Local space lines
01:45:09 Carl Jung
01:47:47 Shadowed planets
01:50:13 Astrocartography's impact on quality of life
01:58:18 End cards
Watch the Video Version of This Episode
Watch the video version of this episode on astrocartography:
–
Transcript
A full transcript of this episode is available: Episode 422 transcript
Listen to the Audio Version of This Episode
Listen to the audio version of this episode or download it as an MP3:
Podcast: Play in new window | Download (Duration: 2:01:52 — 112.1MB)
Subscribe: Google Podcasts | RSS | More