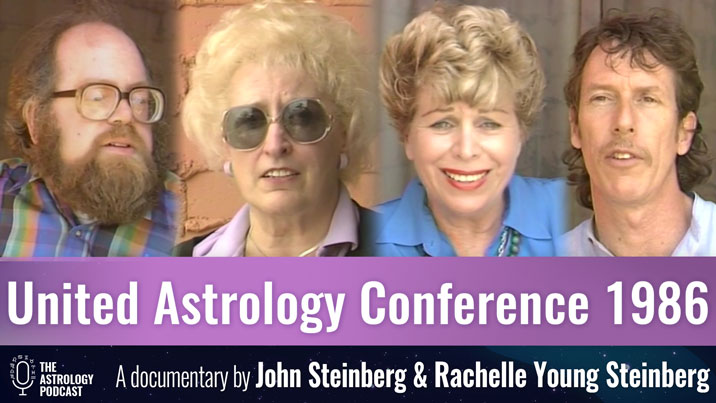 Episode 421 is a documentary about the 1986 United Astrology Conference, which was the first time that UAC was hosted by AFAN, ISAR, and the NCGR.
This was the very first time that three of the main astrological organizations in the United States pooled their resources to host one big mega conference, and the documentary features many prominent astrologers from the 1980s.
Some of the astrologers featured in the documentary include Rob Hand, Joan McEvers, Marion March, Jim Lewis, Michel Gauquelin, Leyla Raël Rudhyar, Alan Oken, Michael Lutin, Erin Sullivan, Jeff Jawer, Ray Merriman, Philip Sedgewick, Edith Hathaway, Jeffrey Wolf Green, Noel Tyl, and many others.
The three organizations that hosted the conference were the Association for Astrological Networking (AFAN), the International Society for Astrological Research (ISAR), and the National Council for Geocosmic Research (NCGR).
The documentary was shot and edited John Steinberg and Rachelle Young Steinberg, and John originally posted it on Vimeo on May 30, 2014, but he recently gave me permission to re-release it on my YouTube channel and podcast so that it can reach a wider audience.
I wrote a blog post about the documentary back in 2014 when it first came out, talking about some of the things I found notable or interesting about it.
I'm planning on recording a livestream commentary about it on YouTube on Sunday, October 8, starting at 3:30 PM Mountain Time, which you can watch live here:
UAC 1986 Livestream Commentary
I'm hoping a lot of people can join us in the live chat to help me identify astrologers I don't recognize in the video, and provide additional context and commentary. First though I want to release the documentary on its own.
I'm going to release an audio only version of the recording in addition to the video version for the sake of putting it in the podcast archives, although it is really something that should be watched rather than just listened to, so I'd recommend watching the video version.
Watch the Video Version of This Episode
Watch the video version of the 1986 United Astrology Conference documentary:
Transcript
A full transcript of this episode is available: Episode 421 transcript
Listen to the Audio Version of This Episode
Listen to the audio version of this episode or download it as an MP3:
Podcast: Play in new window | Download (Duration: 2:00:19 — 110.5MB)
Subscribe: Google Podcasts | RSS | More