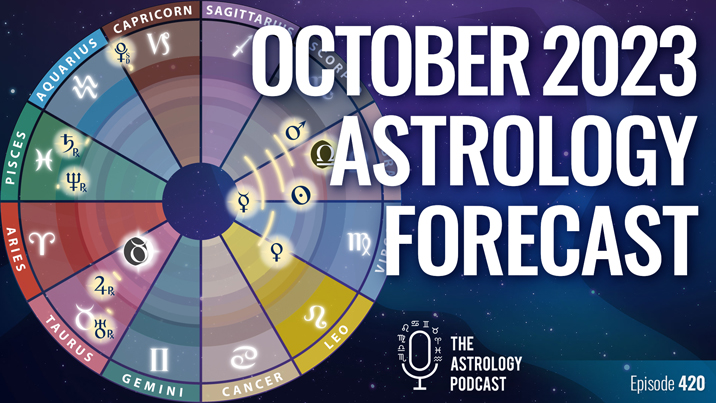 In episode 420 we give an overview of the monthly astrology forecast for October 2023, which features eclipses and lots of Pluto aspects, with astrologers Chris Brennan, Austin Coppock, and Nicholas Polimenakos.
At the beginning of the month we see the end of the Venus and Mercury retrograde periods, with Venus finally departing from Leo and moving into Virgo, and Mercury departing from Virgo and moving into Libra.
In October we move into eclipse season, with the first in a new series of solar eclipses in the sign of Libra, and the last of a series of lunar eclipses in the sign of Taurus.
Pluto stations direct in Capricorn this month and begins heading towards a return to Aquarius early next year, and this also marks the final pass of the Pluto return of the United States.
We spend the first hour of the show talking about the astrology of recent stories in the news, including new birth times for Dua Lipa and Elon Musk, the end of the writers strike, and the synastry between Taylor Swift and Travis Kelce.
Then in the second and third hour of the show we do a deep dive into the astrology of October, and talk about the major transits coming up this month.
This episode is available in audio and video versions below.
Northwest Astrological Conference
The Northwest Astrological Conference happening May 23-27, 2024:
Chris, Austin, and Nicholas
https://www.chrisbrennanastrologer.com
Auspicious Election for October
The most auspicious astrological dates this month are:
🪐 October 1 at 11:25 AM with Sagittarius rising
🪐 October 2 at 12:20 AM with Cancer rising
For more auspicious dates this month see our Auspicious Elections podcast:
https://theastrologypodcast.com/elections/
Patreon for Early Access + Bonus Content
https://www.patreon.com/astrologypodcast
Timestamps
00:00:00 Introduction
00:01:02 Quick overview of October astrology
00:02:32 Welcoming Nicholas and Austin
00:05:24 Astrology news segment begins
00:05:44 Dua Lipa's new birth chart
00:13:09 Elon Musk's birth time
00:26:17 Writers Guild and other strikes
00:37:55 Floods around Full Moon in Pisces
00:45:22 Mr. Beast and Jupiter in Pisces
00:56:00 Taylor Swift and Travis Kelce
01:06:01 Northwest Astrological Conference
01:13:55 October astrology forecast begins
01:14:05 Pluto themes: an intense month
01:17:45 Mercury and Venus retrogrades over
01:27:50 Venus opposite Saturn October 8-10
01:36:24 Mars square Pluto October 7 & 8
01:47:37 Pluto stations direct in Capricorn October 10
02:00:26 Mars ingresses into Scorpio October 12
02:00:52 Solar Eclipse in Libra October 14
02:21:25 Mercury cazimi square Pluto October 20
02:24:00 Venus trine Jupiter October 21
02:29:10 Auspicious election for October
02:33:55 Lunar eclipse in Taurus October 28
02:40:51 Mercury conjunct Mars opposite Jupiter October 28
02:52:48 Venus trine Uranus October 31
03:01:45 End cards
Watch the Video Version of This Episode
Watch the video version of our October astrology forecast on YouTube:
–
Transcript
A full transcript of this episode is available: Episode 420 transcript
Listen to the Audio Version of This Episode
Listen to the audio version of this episode or download it as an MP3:
Podcast: Play in new window | Download (Duration: 3:05:07 — 170.0MB)
Subscribe: Google Podcasts | RSS | More