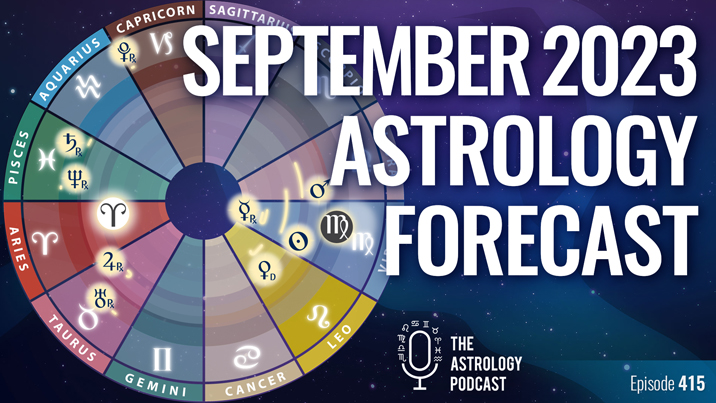 In episode 415 we look ahead at the astrological forecast for September of 2023, with astrologers Chris Brennan, Austin Coppock, and Steph Koyfman!
The astrology of September opens with Venus stationing direct in Leo and ending a 40 day long retrograde period, while at the same time Mercury is retrograde in Virgo for the entire first half of the month.
In the first hour of the episode we catch up on news and events that have happened since our last forecast a month ago, largely focusing on notable Venus retrograde stories, and then in the second hour we get into talking about the astrology of September.
This episode is available in both audio and video versions below.
Hawaii Fires Donations
CHANI App
Websites for Chris, Austin, and Steph
https://www.chrisbrennanastrologer.com
Auspicious Election for September
The most auspicious astrological date this month is September 3, 2023 at 9:55 PM with Taurus rising!
For more auspicious dates this month see our Auspicious Elections podcast:
https://theastrologypodcast.com/elections/
Patreon for Early Access + Bonus Content
https://www.patreon.com/astrologypodcast
Timestamps
00:00:00 Introduction
00:00:44 Quick overview of September
00:01:48 Welcoming Steph and Austin
00:02:33 News segment begins
00:02:42 Venus retrograde summer of breakups
00:04:52 Venus retrograde proposals
00:13:38 Summer of women causing economic earthquakes
00:23:19 Controversies during Venus retrograde
00:26:35 Rebellion outcome
00:32:35 Hawaii fires
00:41:20 Radioactive water
00:46:35 Doja Cat 11th house retro
00:51:00 Twitter rebranding
00:55:20 Video game release
00:59:39 1999 music throwback + anti-aging
01:05:11 CHANI astrology app
01:09:55 September forecast begins
02:20:37 Credits and end cards
Watch the Video Version of This Episode
Watch the video version of this episode on YouTube:
–
Transcript
A full transcript of this episode is available: Episode 415 transcript
Listen to the Audio Version of This Episode
Listen to the audio version of this episode or download it as an MP3:
Podcast: Play in new window | Download (Duration: 2:24:04 — 132.4MB)
Subscribe: Google Podcasts | Stitcher | RSS | More