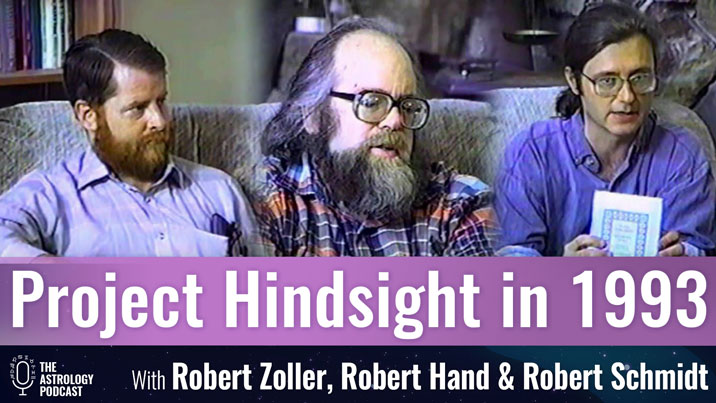 Episode 416 is a recording of an early interview with the founders of Project Hindsight, which was a translation project for ancient astrology in the 1990s, led by Robert Schmidt, Robert Hand, and Robert Zoller.
This interview was conducted by an astrologer named Jeanne Mozier (1945–2020) in her home in Berkeley Springs, West Virginia, in July of 1993.
This would have been only three months after the Project Hindsight translation project was first announced at the Northwest Astrological Conference in April of 1993, so this is an extremely early interview when they were still in the very early phases of the project.

In the interview the three astrologers describe their plans for the project, how they were approaching it, and what their motivation was for undertaking such an ambitious undertaking.
This was digitalized from a video tape recording, and it is available in an audio or video version below:
Watch the Video Version of This Episode
Watch the video version of this early interview with Project Hindsight on YouTube:
–
Transcript
A full transcript of this episode is available: Episode 416 transcript
Listen to the Audio Version of This Episode
Listen to the audio version of this episode or download it as an MP3:
Podcast: Play in new window | Download (Duration: 48:44 — 44.9MB)
Subscribe: Google Podcasts | Stitcher | RSS | More