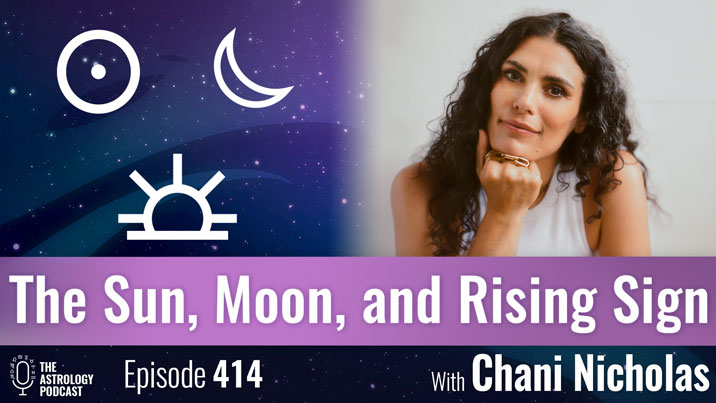 In episode 414 astrologer Chani Nicholas joins the podcast to talk about the Sun, Moon, and rising signs in astrology, and explain what they mean and what the difference is between them.
In the 20th century it became common for people to know their Sun-sign, which is the sign of the zodiac the Sun was located in on the day you were born.
However in recent years due to the rise of astrology apps and websites it has become more common to know your so-called "big three", which are your Sun, Moon, and rising signs.
But what do the Sun, Moon and rising zodiac signs mean in a birth chart? During the course of this episode we discuss the core meanings of these placements, which Chani calls the "three keys" to your birth chart.
In Chani's approach the Sun signifies your life's purpose and how you shine, the Moon represents your physical and emotional needs and how we live out our purpose in the physical realm, and the Ascendant and its ruler show your motivation for living and direction your life is steered in.
Chani is the author of the book You Were Born for This: Astrology For Radical Self-Acceptance, and is the creator of the CHANI app, which is an astrology app available for iOS and Android.
You can find out more about Chani on her website:
This episode is available in both audio and video versions below.
Timestamps
00:00:00 Introduction
00:06:00 Chani's background in astrology
00:13:15 Sun, Moon, and rising sign overview
00:15:30 The Ascendant and rising sign
00:34:38 Three guidelines for learning astrology
00:41:15 The Sun
01:14:44 The Moon
01:42:28 Sect: day vs night charts
01:48:50 Finding your life's purpose
01:58:31 New CHANI app Android version
02:03:20 Concluding remarks
02:05:46 End cards and credits
Watch the Video Version of This Episode
Watch the video version of this episode with Chani on the Sun, Moon, and rising on YouTube:
–
Transcript
A full transcript of this episode is available: Episode 414 transcript
Listen to the Audio Version of This Episode
Listen to the audio version of this episode or download it as an MP3:
Podcast: Play in new window | Download (Duration: 2:09:14 — 118.9MB)
Subscribe: Google Podcasts | Stitcher | RSS | More