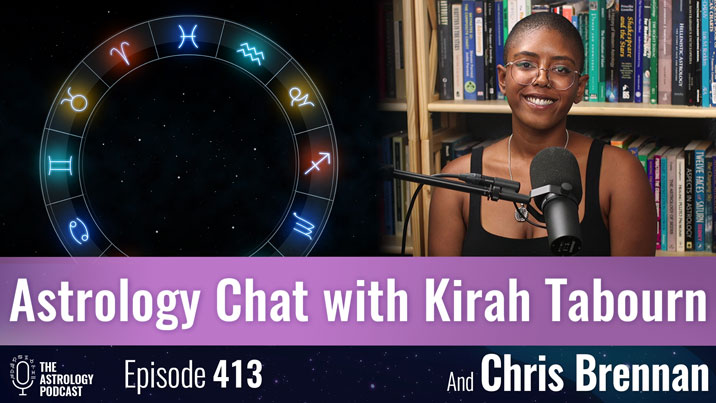 In episode 413 astrologer Kirah Tabourn stopped by the studio for a casual astrology chat!
Kirah was in town for a concert, so we decided to take the opportunity to record a chat about a bunch of different astrological topics, including some recent instances of Venus retrograde in the news, synastry and relationship astrology, and more.
You can find out more about Kirah on her website:
This episode is available in both audio and video versions below.
Timestamps
00:00:00 Introduction
00:01:20 Venus retrograde summer
00:34:30 Twitter rebrand
00:43:55 Doja Cat
00:51:42 The Weeknd
00:55:38 Keywords for Venus retrograde
01:04:25 The importance of self-care for astrologers
01:06:30 Consultations and prep time
01:31:45 Value of doing forecasts
01:39:01  Astrology can be applied to many different fields
01:53:20 Writing books
02:02:22  The importance of reconciling different house systems
02:12:06 Conferences
02:27:30 Saturn transits
02:35:00  The role of day charts and night charts
02:49:45 Myth of progress
02:54:45 Rise in popularity of astrology
03:10:50 Kirah's app and projects
03:16:25 Credits and end cards
Watch the Video Version of This Episode
Watch the video version of this episode on our YouTube channel:
–
Transcript
A full transcript of this episode is available: Episode 413 transcript
Listen to the Audio Version of This Episode
Listen to the audio version of this episode or download it as an MP3:
Podcast: Play in new window | Download (Duration: 3:19:34 — 274.4MB)
Subscribe: Google Podcasts | Stitcher | RSS | More