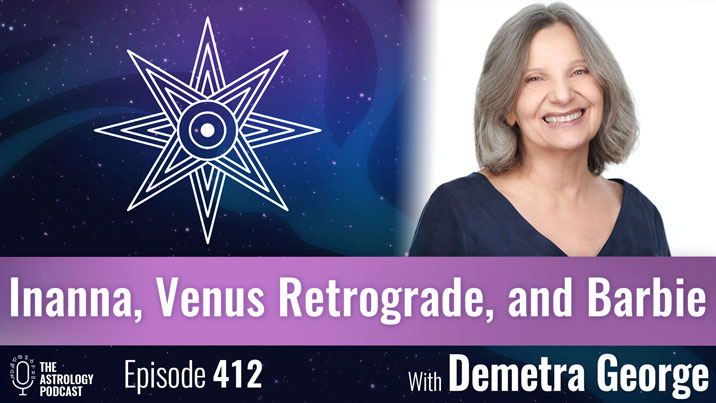 In episode 412 astrologer Demetra George joins the podcast to talk about the connection between the ancient Mesopotamian goddess Inanna, the Venus retrograde cycle, and the Barbie movie!
During the course of the episode we talk about the ancient Mesopotamian myth of the descent of the goddess Inanna into the underworld, and how it is connected to the Venus synodic cycle, and especially the retrograde phase of Venus.
I saw Demetra give a lecture in 2005 connecting the myth of Inanna with Venus retrograde, and then I was really pleasantly surprised to see a number of parallels with the myth show up in the Barbie movie that was released recently right when Venus stationed retrograde.
Some of these parallels between Barbie and Inanna were pointed out in an article by a writer named Meg Ellison titled "Barbie is the new Inanna":
https://wildhunt.org/2023/07/barbie-is-the-new-inanna.html
Demetra and I have been talking about a lot of this for the past few weeks, and decided to record an episode on it, in order to dive deeper into some of these ancient myths surrounding the Venus retrograde cycle and talk about how they are still relevant today.
In the process we covered a lot of interesting ground, and touched on a number of important and fascinating figures, including the first author in history who signed her name to her writings, a priestess of Inanna named Enheduanna that lived around 2300 BCE.
In that way this episode builds a little bit on the previous discussion Demetra and I did earlier this year on Heliodora and the early history of women in astrology.
We also talked about the nature of archetypes, planetary significations that have been lost through time, and a deeper understanding of the complex yet profound meanings of Venus and her cycles.
We also delved into some Barbie astrology facts, and I should say that there are spoilers for the Barbie movie in this episode, so if you care about spoilers then maybe watch the movie first before listening to the episode.
For more about Demetra visit her website:
This episode is available in both audio and video versions below.
Timestamps
00:00:00 Introduction
00:00:30 Inanna, Venus retrograde, and Barbie
00:03:01 Meg Elison: Barbie is the New Inanna
00:07:00 Barbie movie released on Venus retrograde
00:08:45 Greta Gerwig born on Venus retrograde
00:09:37 Inanna book published when Gerwig was born
00:11:14 1959 Venus retrograde when Barbie became popular
00:12:30 Goddess Inanna in Ancient Mesopotamia
00:27:40 Venus synodic cycle
00:29:45 Inanna's descent into the underworld
00:43:24 Heliacal set under the beams of the Sun
00:48:36 Seven gates to the underworld
00:54:00 Emergence from the underworld
00:59:39 Inanna finds husband on her throne
01:04:40 Venus stations direct and maximum elongation
01:05:25 Venus as morning star vs. evening star
01:12:00 Morning setting and superior conjunction
01:15:44 Venus retrogrades and breakups
01:18:00 Archetypes
01:25:52 Contradictory meanings of Inanna
01:41:55 Barbie, Marilyn Monroe, Margot Robbie connection
01:46:41 Solar Fire & AstroGold
01:47:21 Enheduanna
02:03:42 Mesopotamian influence on Greeks planet names
02:12:16 Dual characteristics of Inanna in Enheduanna
02:17:15 Feminine rage and seeking vengeance or justice
02:20:00 Identifying your natal Venus phase
02:29:30 Concluding remark
02:30:52 Demetra's work and events
02:37:35 Patrons, sponsors, credits
Watch the Video Version of This Episode
Watch the video version of this episode on YouTube:
–
Transcript
A full transcript of this episode is available: Episode 412 transcript
Listen to the Audio Version of This Episode
Listen to the audio version of this episode or download it as an MP3:
Podcast: Play in new window | Download (Duration: 2:41:03 — 148.1MB)
Subscribe: Google Podcasts | Stitcher | RSS | More