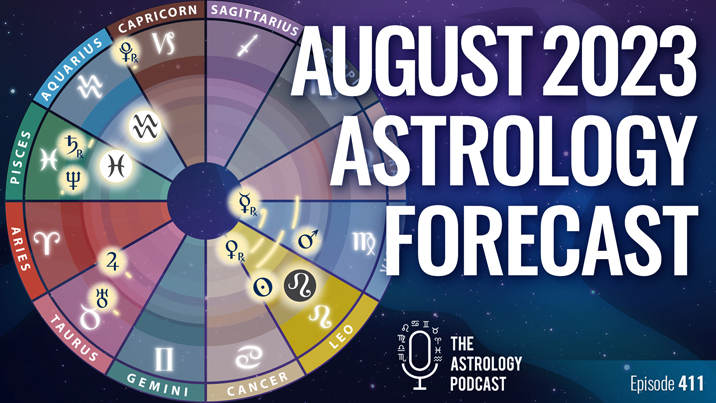 In episode 411 astrologers Chris Brennan, Austin Coppock, and Michael J. Morris look ahead at the astrological forecast for August 2023!
This month sees the continuation of the early and middle phases of the Venus retrograde in Leo, with the Sun-Venus conjunction happening mid-month, while later in the month Mercury slows down and goes retrograde in Virgo.
In the first hour of the episode we discuss the astrology of some recent stories in the news, such as the Barbie movie being released the day Venus stationed retrograde, and then in the second hour of the show we get into the forecast for August.
This episode is available in both audio and video versions below.
The Astrologers' Websites
https://www.chrisbrennanastrologer.com
Auspicious Election for August
The most auspicious astrological date this month is August 7 2023 at 6:12 AM with Leo rising!
For other auspicious dates this month see our Auspicious Elections podcast:
https://theastrologypodcast.com/elections/
The Astrology of Barbenheimer
The bonus episode on the astrology of Barbie and Oppenheimer:
https://www.patreon.com/posts/casual-astrology-86773522
Patreon for Early Access + Bonus Content
https://www.patreon.com/astrologypodcast
Timestamps
00:00:00 Introduction
00:06:05 Barbie movie astrology
00:16:58 Idealized aesthetics
00:26:05 More Barbieology facts
00:39:28 Actors strike, cinema, Oppenheimer
00:43:43 LGBTQ+ and Venus retrograde in Leo
01:07:20 Forever chemicals: Saturn in Pisces
01:15:04 August forecast begins
01:15:48 Full Moon in Aquarius August 1
01:24:55 Mercury in Virgo all month
01:35:05 Venus square Uranus August 9
01:39:25 Venus cazimi August 13
01:52:37 Myth of Inanna
01:59:15 New Moon in Leo August 16
02:00:09 Auspicious date for August
02:03:06 Mercury retro Aug 23 + Mars opp Neptune
02:11:20 Mars into Libra August 27
02:19:16 Full Moon in Pisces August 30
02:26:23 Michael, Austin, and Chris' websites
02:30:24 Patrons, sponsors, and end cards
Watch the Video Version of This Episode
Watch the video version of this episode on YouTube:
–
Transcript
A full transcript of this episode is available: Episode 411 transcript
Listen to the Audio Version of This Episode
Listen to the audio version of this episode or download it as an MP3:
Podcast: Play in new window | Download (Duration: 2:33:52 — 141.3MB)
Subscribe: Google Podcasts | Stitcher | RSS | More