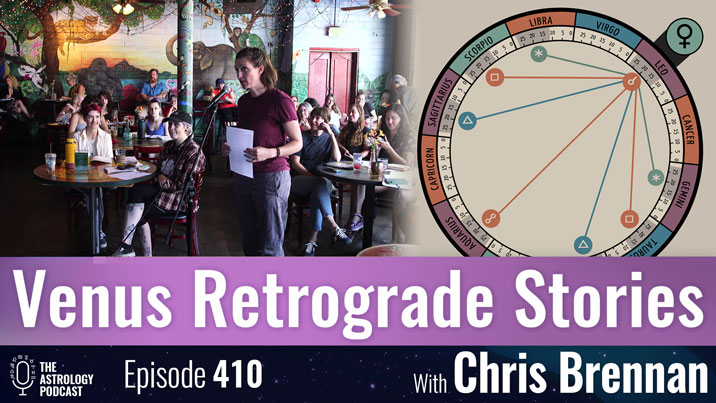 Episode 410 is a workshop led by Chris Brennan where members of the Denver Astrology Group share stories about how past Venus retrograde transits have manifested in their lives.
This meeting was held on July 9, 2023, and members were given a Venus retrograde worksheet and instructed to research their chronology  ahead of time and come prepared to share stories of past Venus retrograde transits.
During the course of the meeting 8 different astrologers shared real-life stories of how the transit had worked out for them in the past, and in some instances how the events that happened under one retrograde were linked to subsequent ones in 8 year increments.
This episode acts as a nice followup to our previous episode titled Venus Retrograde in Astrology Explained, which covered more of the theory of how the transit works and used a number of celebrity charts, while in this workshop we get an even deeper sense of how it actual works out in the lives of normal people.
This episode is available in both audio and video versions below.
Venus Retrograde Worksheet
Timestamps
00:00:00 Introduction
00:01:30 Venus retrograde
00:04:20 Repetitions in 8 year increments
00:05:48 Example 1
00:12:50 Example 2
00:29:15 Example 3
00:36:51 Example 4
00:46:55 Example 5
01:02:03 Example 6
01:14:40 Example 7
01:29:28 Example 8
01:55:09 Concluding remarks
01:56:56 Patrons and sponsors
Watch the Video Version of This Episode
Watch the video version of our Venus retrograde workshop here:
–
Transcript
A full transcript of this episode is available: Episode 410 transcript
Listen to the Audio Version of This Episode
Listen to the audio version of this episode or download it as an MP3:
Podcast: Play in new window | Download (Duration: 2:00:23 — 111.3MB)
Subscribe: Google Podcasts | Stitcher | RSS | More