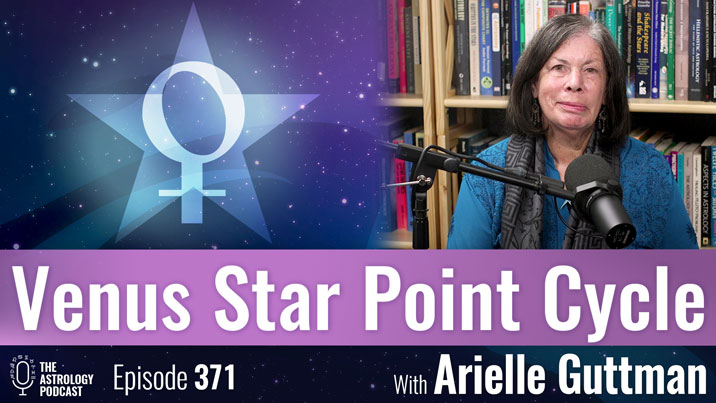 In episode 371 astrologer Arielle Guttman joins the podcast to talk about the Venus star point cycle in astrology, and how the upcoming Venus cazimi signals a shift in history.
We begin the episode by talking about the Venus synodic cycle as a concept, the upcoming Venus cazimi shift from Scorpio into Libra that will occur in late October, and how to determine your Venus star point.
We then move into talking about how these different phases of the Venus synodic cycle play a role in personal and collective values, wants, and needs.
Each person has five Venus star points, three before their birth and two after, which are connected to both the timing and tone of different phases of their lives, depending on when Venus returns to and conjoins the Sun at those points again.
During the course of the episode we also discuss the implications of the broader 250 year cycle of Venus in mundane astrology, and how that is repeating a set of alignments that occurred during the founding of the United States.
For more about Arielle work visit:
This episode is available in audio and video versions below.
Watch the Video Version of This Episode
Watch the video version of this episode on YouTube:
–
Transcript
A full transcript of this episode is available: Episode 371 transcript
Listen to the Audio Version of This Episode
Listen to the audio version of this episode or download it as an MP3:
Podcast: Play in new window | Download (Duration: 2:21:26 — 130.4MB)
Subscribe: Google Podcasts | Stitcher | RSS | More