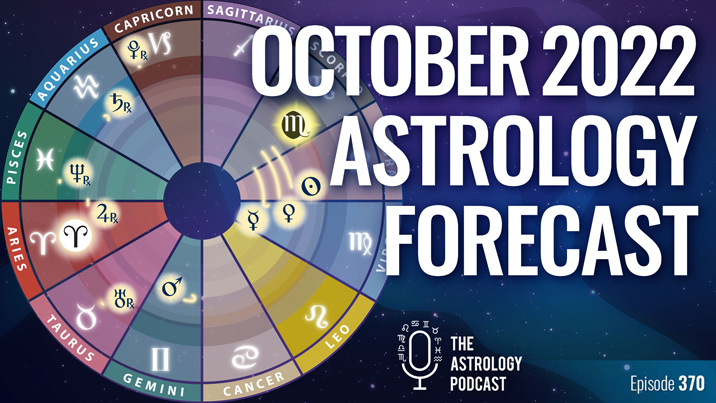 In episode 370 astrologers Chris Brennan, Austin Coppock, and Diana Rose Harper look ahead at the astrology of October 2022!
The forecast for the astrology of October starts off pretty tame, with the end of a Mercury retrograde in Virgo, and planets transiting through Libra for the first half of the month.
Later in October there is a shift in tone, and we get a solar eclipse in Scorpio, Mars stations retrograde in Gemini, Saturn stations direct in Aquarius, and Jupiter retrogrades back into Pisces.
At the top of the show we talk about the astrology of recent events in the news, and then eventually get into the astrological transits for October.
This episode is available in both audio and video versions below.
Electional Astrology Report for 2023 Released
Our 2023 Electional Astrology Report has been released!
TheAstrologyPodcast.com/2023report/
The report highlights the single most auspicious date in each month of 2023!
Chris, Austin, and Diana's Websites
Watch the Video Version of This Episode
Watch the video version of this episode on the astrology of October 2022:
–
Transcript
A full transcript of this episode is available: Episode 370 transcript
Listen to the Audio Version of This Episode
Listen to the audio version of this episode or download it as an MP3:
Podcast: Play in new window | Download (Duration: 2:14:53 — 124.8MB)
Subscribe: Google Podcasts | Stitcher | RSS | More