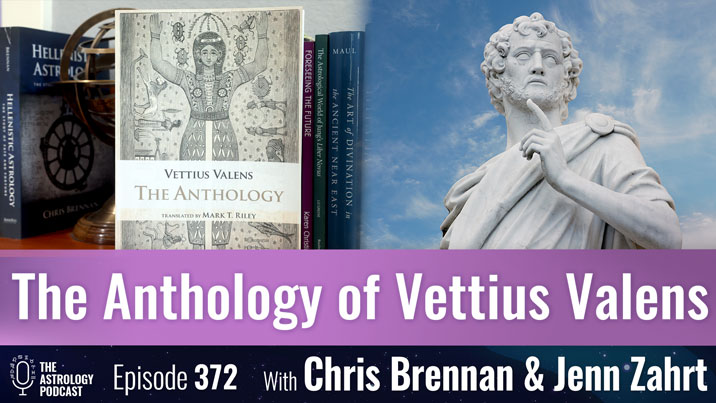 In episode 372 astrologers Chris Brennan and Jenn Zahrt talk about the life and work of the second century astrologer Vettius Valens, and a new translation of his Anthology that they just published.
Valens is one of our most important sources for understanding the practice of ancient astrology, because he wrote one of the longest texts on Hellenistic astrology that survives, and he included more than 100 example charts to demonstrate how the techniques work in practice.
In 2010 a classics scholar named Mark Riley released an unfinished PDF of a translation that he made of Valens' Anthology online for free, and this has become the main source that many astrologers and academics use to read Valens today.
However, because the translation wasn't finished, Mark didn't include diagrams in the text to illustrate Valens' chart examples, and there were also some important chapters that were not completed.
The absence of illustrations in the text made it much harder for students to read Valens and understand what he was talking about with his chart examples.
That is why, with Mark's permission, Chris has just published a new print version of his translation of Valens that includes diagrams every time a chart example is introduced.
We also completed chapters that were unfinished, and corrected a number of typos, making this edition more definitive.
The final book is 440 pages long, and it includes a 50 page survey of Valens' Anthology that was written by Mark, which gets into some really interesting stuff about the chronology of Valens' life. Chris also wrote a foreword for the book.
The book has just been released yesterday, October 16, 2022, and you can order it through online retailers such as Amazon or Barnes & Noble.
The Anthology of Vettius Valens on Amazon
Find out more about Jenn's astrological library and institute:
This episode is available in both audio and video versions below.
Watch the Video Version of This Episode
Watch the video version of this episode on Vettius Valens on YouTube:
–
Transcript
A full transcript of this episode is available: Episode 372 transcript
Listen to the Audio Version of This Episode
Listen to the audio version of this episode or download it as an MP3:
Podcast: Play in new window | Download (Duration: 1:40:16 — 92.5MB)
Subscribe: Google Podcasts | Stitcher | RSS | More