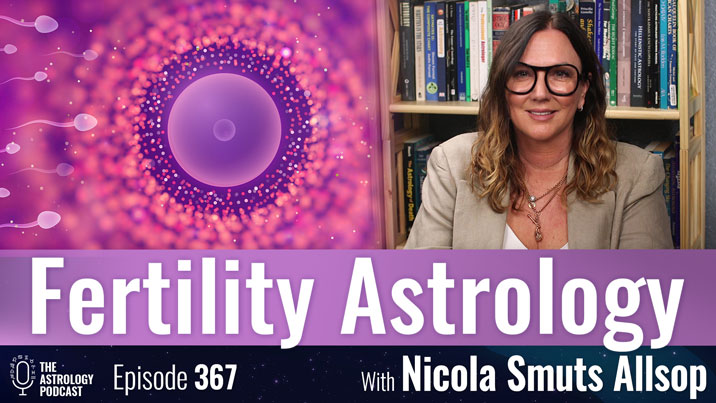 In episode 367 astrologer Nicola Smuts Allsop joins the show to talk about fertility astrology, and how it can be used to help someone have a baby.
Nicola published a book in 2018 titled Fertility Astrology: A Modern Medieval Textbook, in which she outlines some case studies where she was able to help clients to have a child using astrology.
During the course of the episode we talk about some of the techniques Nicola uses in practice, how astrology should be used as an adjunct to more conventional methods rather than a replacement, and what some of the limitations are.
Find out more about Nicola on her website:
https://www.fertilityastrology.com
This episode is available in both audio and video versions below.
Timestamps
00:00:00 Intro
00:01:23 Nicola's background
00:10:04 Reasons for having children
00:12:50 Ages when fertility problems begin
00:16:20 The almuten of pregnancy
00:22:42 Indicators of fertility issues in the birth chart
00:27:22 Emotional and physical strain of fertility treatments
00:36:05 How pregnancy fits into the life narrative astrologically
00:39:35 C-sections and increase in luminaries in the 10th house
00:44:00 Nicola's holistic approach
00:47:23 Managing client expectations
00:49:55 Moon-Saturn
00:55:13 Nicola's IVF story
01:07:06 Importance of medical knowledge
01:12:57 Skepticism during consults
01:21:18 Moon-Neptune
01:23:46 Using solar arcs
01:26:55 Problems with electing a chart for a child
01:36:48 Conception charts
01:42:14 Where fertility astrology is headed
01:49:10 Issues couples have before having children
01:54:30 Understanding destiny through astrology
01:59:20 Saturn-Neptune opposition
02:00:49 Nicola's app, YouTube, website, and book
02:01:27 Patrons and sponsors
Watch the Video Version of This Episode
Watch the video version of this episode on fertility astrology on YouTube:
–
Transcript
A full transcript of this episode is available: Episode 367 transcript
Listen to the Audio Version of This Episode
You can play the audio version of this episode of the podcast directly from the website or download it as an MP3 to your device by using the buttons below:
Podcast: Play in new window | Download (Duration: 2:04:22 — 171.1MB)
Subscribe: Google Podcasts | RSS | More