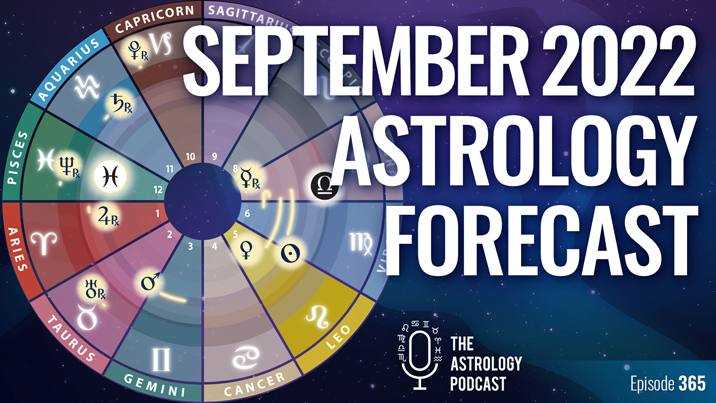 In episode 366 astrologers Chris Brennan, Austin Coppock, and Catherine Urban look ahead at the astrology of September 2022!
The September astrology forecast features Mars entering its shadow phase in the build up to a long retrograde in Gemini, Mercury going retrograde in the signs of Libra and Virgo, and a Full Moon in Pisces and New Moon in Libra.
At the top of the show we talk about the astrology of recent events in the news, and then eventually get into the astrological transits for September.
Austin and Catherine were in town for a big conference in Denver this weekend that was being hosted by the International Society for Astrological Research, so we decided to record this episode in person last Thursday, just before the conference began.
This episode is available in both audio and video versions below.
Chris, Austin, and Catherine's Websites
Solar Fire and Astro Gold Astrology Software
Our sponsors this month are the Solar Fire and Astro Gold astrology software programs!
Find out more about them here:
TheAstrologyPodcast.com/astrology-software/
Use the promo codes AP15 and ASTROPODCAST15 to get a 15% discount!
Watch the Video Version of This Episode
Watch the video version of this episode on the astrology of September 2022:
–
Transcript
A full transcript of this episode is available: Episode 366 transcript
Listen to the Audio Version of This Episode
You can play the audio version of this episode of the podcast directly from the website or download it as an MP3 to your device by using the buttons below:
Podcast: Play in new window | Download (Duration: 2:32:25 — 139.9MB)
Subscribe: Google Podcasts | Stitcher | RSS | More