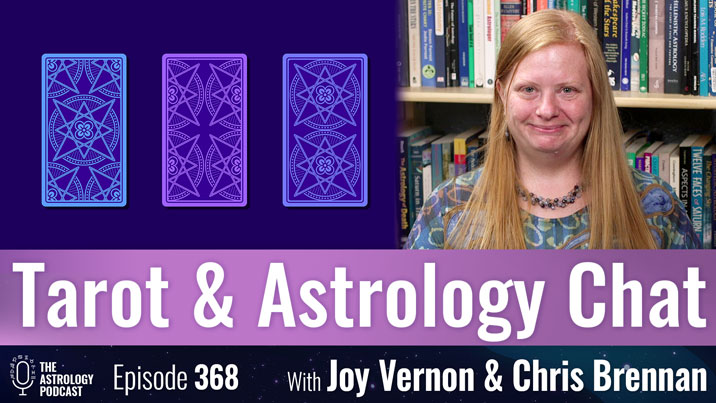 In episode 368 astrologer and tarot reader Joy Vernon joins Chris in the studio for a casual chat about tarot, astrology, and a number of related metaphysical topics.
Joy has been practicing tarot for more than 30 years, and has organized several local groups and conferences for tarot readers.
During the course of the episode we talk about Chris' recent interest in tarot, the history of the popular Rider-Waite-Smith tarot deck, the connections between astrology and tarot, and Saturn as feminine in the tree of life.
For more information about Joy visit her website:
This episode is available in both audio and video versions below.
Timestamps
00:00:00 Intro
00:02:20 Tarot as form of divination
00:05:00 How does tarot work?
00:09:35 Astrology vs. tarot
00:13:38 Tarot symbolism
00:18:10 Joy's approach to teaching tarot
00:24:57 Joy's role in Austin joining the forecast episodes
00:27:38 Rider-Waite-Smith deck
00:33:40 Tarot, astrology, and images
00:47:28 History of the Rider-Waite-Smith deck
00:53:35 In-person consultations
01:02:33 Self-publishing vs. traditional publishing
01:10:12 Rise of tarot/astrology blend
01:31:08 Does any divination system work?
01:40:57 Finding a system and approach
01:46:00 Saturn as feminine and the Tree of Life
02:01:37 Joy's website and programs
02:03:57 Patrons and sponsors
Watch the Video Version of This Episode
Watch the video version of this episode on tarot and astrology on YouTube:
–
Transcript
A full transcript of this episode is available: Episode 368 transcript
Listen to the Audio Version of This Episode
Listen to the audio version of this episode or download it as an MP3:
Podcast: Play in new window | Download (Duration: 2:07:01 — 117.1MB)
Subscribe: Google Podcasts | Stitcher | RSS | More