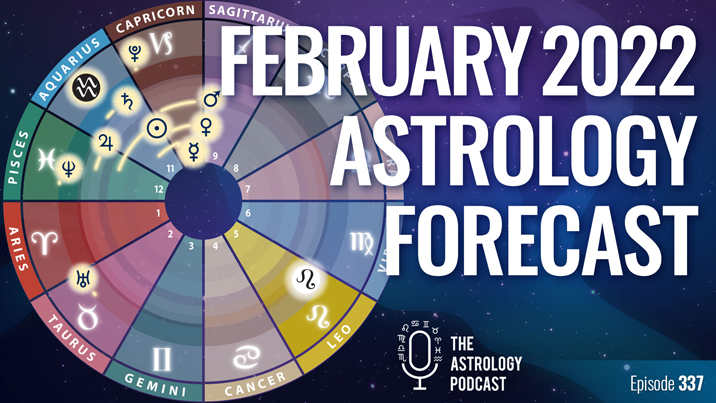 In episode 337 astrologers Chris Brennan, Austin Coppock, and special guest co-host Patrick Watson look ahead at the astrology of February 2022!
The astrology of February features a stellium of planets piling up in Capricorn, with Venus and Mercury stationing direct there, and Mars having recently ingressed into the sign.
Mid-month Mars will catch up to Venus and form a conjunction in Capricorn, and then later in the month the United States has the first of three exact Pluto returns.
The lunations this month include a New Moon in Aquarius and a Full Moon in Leo.
This episode is available in both audio and video versions below.
Our Websites
More info about Austin, Patrick, and Chris:
Ephemeris.co Birth Chart Necklace
This episode is sponsored by Ephemeris, which creates custom birth chart necklaces:
Use the promo code ASTROLOGYPODCAST to get a 10% discount.
February 2022 Astrology Alignments
New Moon in Aquarius on February 1
Mercury stations direct in Capricorn February 3
Sun-Saturn conjunction on February 4
Mars trine Uranus on February 8
Mercury conjunct Pluto on February 11
Mercury moves into Aquarius on February 14
Full Moon in Leo February 16
Mars conjoins Venus exact on February 16
Jupiter sextile Uranus on February 17
Sun moves into Pisces on February 18
US Pluto Return exact on February 22
Mars sextile Neptune February 23
Venus sextile Neptune February 24
Auspicious Date for February
The most auspicious astrological date for February is:
February 2, 2022, at 8:15 AM, with Pisces rising
For more dates in February see our subscription electional astrology podcast.
For dates later in the year see our 2022 Year Ahead Electional Astrology Report!
Watch the Video Version of This Episode
Watch the video version of this episode on the astrology of February 2022:
–
Transcript
A full transcript of this episode is available: Episode 337 transcript
Listen to the Audio Version of This Episode
You can play the audio version of this episode of the podcast directly from the website or download it as an MP3 to your device by using the buttons below:
Podcast: Play in new window | Download (Duration: 2:22:01 — 130.3MB)
Subscribe: Google Podcasts | Stitcher | RSS | More