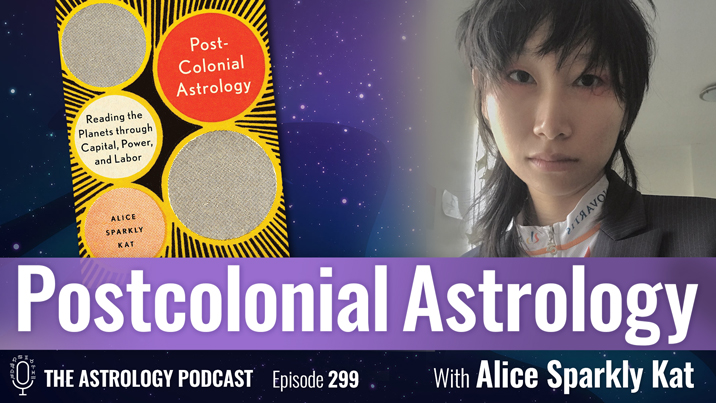 Episode 299 features an interview with Alice Sparkly Kat about their new book titled Postcolonial Astrology.
Alice's book is primarily a treatment of the seven traditional planets and their historical significations when seen through the lens of issues related to capital, power, and labor.
During the course of the interview we touch on what postcolonial theory is and why it is important, as well as its application to astrology in order to better understand both the historical context of astrology, as well as how it can be applied more conscientiously today.
For more info about the book check out Alice's website:
https://www.alicesparklykat.com/postcolonialastrology/
This episode is available in both audio and video versions below.
Watch the Video Version of This Episode
Watch the video version of this episode on postcolonial astrology on YouTube:
–
Transcript
A full transcript of this episode is available: Episode 299 transcript
Listen to the Audio Version of This Episode
You can either play the audio version of this episode of the podcast directly from the website or download it as an MP3 to your device by using the buttons below:
Podcast: Play in new window | Download (Duration: 1:38:32 — 90.5MB)
Subscribe: Google Podcasts | Stitcher | RSS | More