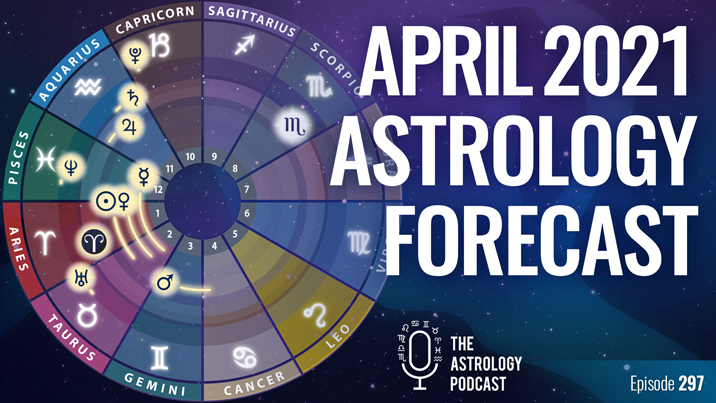 In episode 297 of the podcast astrologers Kelly Surtees, Austin Coppock, and Chris Brennan look at the astrological forecast for April 2021.
The astrology of April features a shift of inner planets into the fire sign Aries, where Mars went retrograde in the second half of last year, as well as a New Moon in the same sign.
The later part of the month features a shift of planets into the earth sign Taurus where they meet up with Uranus, as well as Mars moving from Gemini into Cancer, and a Full Moon in Scorpio.
We spend the first 90 minutes talking about the April forecast, and then discuss some miscellaneous topics like how astrologers process after doing a consultation, and The Astrology Podcast celebrating 300 episodes.
This episode is available in both audio and video versions below.
Northwest Astrological Conference
Our sponsor this month is the Northwest Astrological Conference!
NORWAC is a virtual conference event which is taking place May 27-31, 2021.
The conference will feature 30+ astrologers giving lectures and workshops, ranging from beginner to intermediate and advanced topics in astrology.
April Astrology Alignments
Here are the major planetary alignments for April: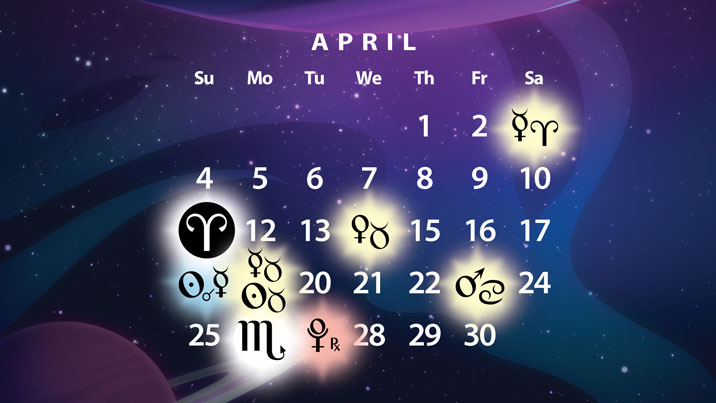 Timestamps
Here are some timestamps for topics covered at different points in the episode:
00:00:00 Intro
00:00:38 April planetary alignments calendar
00:02:08 Recent Sun-Venus cazimi
00:03:14 Kelly's April overview statement
00:04:30 Austin's April overview statement
00:05:41 Chris's April overview statement
00:07:14 Beginning of April
00:09:17 Transiting south node stories
00:12:54 Mars moving past the North Node
00:15:32 Contrast between hot and cold
00:19:03 Mercury enters Aries on April 3
00:21:00 Mercury-Mars Mutual Reception
00:25:30 Sun Mercury cazimi on April 18
00:26:40 Shift from Pisces to Aries
00:28:33 New Moon in Aries on April 11
00:30:38 Mars trine with Jupiter
00:32:53 More about New Moon in Aries
00:33:28 Venus square Pluto on April 11
00:37:11 Overview of April Taurus ingresses
00:39:35 Venus enters Taurus on April 14
00:40:38 Venus-Uranus conjunction on April 22
00:46:10 Venus-Saturn square
00:47:25 Fixed signs
00:53:15 Mercury & Venus square Saturn
00:54:04 April electional chart
01:03:00 Mars enters Cancer April 23
01:15:18 An upside of Mars in Cancer
01:18:26 Remediation
01:25:42 Full moon in Scorpio April 26
01:33:48 Pluto retrograde April 27
01:36:54 April summary
01:37:14 NORWAC Virtual Conference May 27-31, 2021
01:43:26 Sacredness and privacy of a consult
01:49:40 Upcoming episodes
01:50:32 Horary
01:55:05 Episode 300 celebration
02:00:00 Upcoming events/classes
02:03:18 Closing remarks
Watch the Video Version of the April Forecast
Watch the video version of our April astrology forecast on YouTube:
–
Listen to the Audio Version of This Episode
You can either play the audio version of this episode of the podcast directly from the website or download it as an MP3 to your device by using the buttons below:
Podcast: Play in new window | Download (Duration: 2:05:16 — 115.0MB)
Subscribe: Google Podcasts | Stitcher | RSS | More